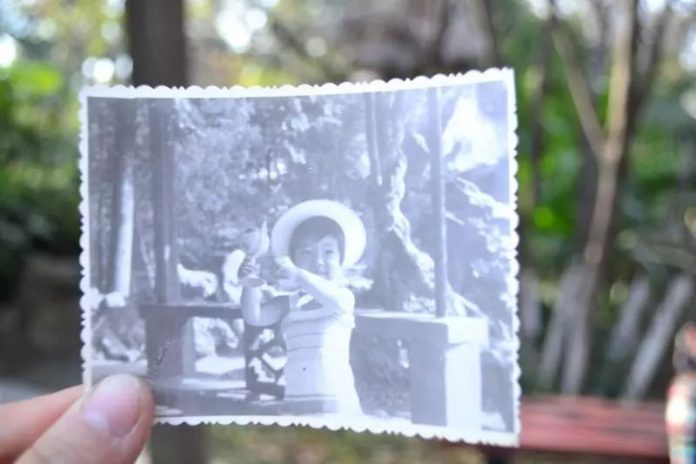 在我的记忆中,常州的众多公园里,变化不大的就属东坡公园了,不信的话有照片为证。
In my memory, most of parks in Changzhou have changed so much, except Dongpo Park. These photos prove my words.
这几张照片拍摄的具体时间约1986年左右,没错,照片中小孩就是我!近三十年了,除了季节变幻,东坡公园的景致完全没有变化。
These photos were taken around 1986. Yes! It's me in the picture! In the last thirty years, there has been no change to Dongpo Park except the changing of seasons.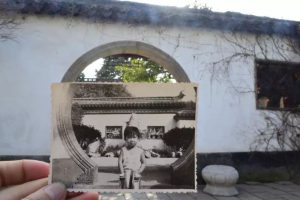 小时候,东坡公园是离我家最近的公园,所以父母经常带我去玩,当时需要门票,几角或几元?忘了。只记得人们唤它作舣舟亭,舣即指船靠岸的意思。可我一直以为是"一舟亭",认字后才发觉此"舣"非彼"一"。东坡公园其实是一座名胜古迹与自然风光相结合的江南园林,舣舟亭是园内的内的一座亭子,北宋大文豪苏东坡来常州时泊舟登岸处,又在常州终老,后人建园纪念。
When I was a child, Dongpo Park was the nearest park to my home. My parents often took me to play. I've forgotten how much tickets cost at that time. I just remember that people called it Yizhou Pavilion. "Yi" means moor. I used to think the meaning of "Yizhou" was one boat before I knew how to read. Actually "Yi" means "stop the boat in the river" in Chinese. Dongpo Park is a Jiangnan (Southern Jiangsu) garden that combines natural scenery and historic places. Yizhou Pavilion is a pavilion inside Dongpo Park. In the Northern Song Dynasty, the famous writer Su Dongpo came to Changzhou and landed his boat there. He spent his remaining years until death in Changzhou. People built this memorial park later.
每次在园里,妈妈都会拉着我的手奔上"山"顶,那座山现在看来很小,只能称作坡了,"山"顶的舣舟亭里,有人坐着纳凉,休息。山脚下,有一池子,父母说那是洗砚池,小学时习国画,所以我当时一直有个疑问,要练多少字费多少墨才能将这一池水给染黑。现在公园练书法的老人,只需蘸水就能写出好字,古人要是活在当代,一定佩服他们的智慧。
Every time we went to the park, my mother held my hand and ran to the hill top. The hill was small like a slope. On the hill top, people enjoyed the coolness and peace. At the foot of the hill, there was a pond. My parents told me it was an inkstone washing pool. I was learning Chinese painting in primary school at the time, so I wondered if I want to change the pool's water to black, how many words I needed to practice and how much ink would be used. Seniors practice calligraphy in the park now by dipping brushes into water. If ancient people lived in the present, they must admire their wisdom.
山脚下还有一座小型园林,太湖石连成一片,错落有致,还有一个小山洞。在那里,我和小伙伴们曾经在草坪上野餐,在山洞捉迷藏。
At the foot of the hill, there is a small garden. The Taihu stone is joined together here, and there is a small cave. This is where my friends and I had picnics on the lawn and played hide and seek in the cave.
往东走,穿过石桥就到了半月岛,在空中俯瞰,小岛像半弯新月所以得名。半月岛相对来说更加安静,植被也保存的更加好。北侧有一座桥名为水门桥,我妈妈小时候住过的地方就在这附近,临河而居的他们,到每年河水上涨时,就能在家里抓小鱼小蟹。写到这,又想到我的外公,每年,他会来东坡公园看牡丹花展,可是,他已经离开了我们。
Walking eastward, across a stone bridge, there is Half Moon Island. Overlooking the air, the island is named for the half-curved crescent moon. Half Moon Island is quiet, and the vegetation is better preserved. There is a bridge on the north side called the Watergate Bridge where my mother lived when she was a child. She and her family lived near the river. Every year when the river rose, they caught small fish and crabs at home. I think of my Grandpa. Every year, he came to see the peony flower show in Dongpo Park, but he has left us.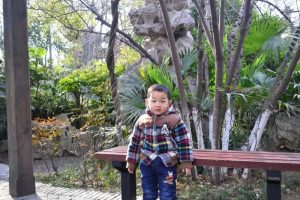 我长大了,有了自己的孩子,带着孩子来东坡公园,他不再喜欢爬小山,也对捉迷藏没兴趣,他只是问这个公园里有没有游乐场。这个还真没有。最近几年,东坡公园里有古运河水上游,倒是能引起他的兴趣,在古色古香的船里慢悠悠的沿着水路感受我的家乡,也是他的家乡,别有一番味道。
I have grown up and now bring my own child to Dongpo park. He no longer likes climbing hills. He is not interested in hide and seek. He just asks if there is a playground in the park. I don't think so! In recent years, a canal sightseeing boat was introduced, and it did arouse his interest. It's a slow way to experience his and my hometown along the waterway in that antique boat.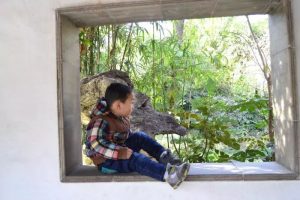 让他站在我当年的位置拍张照,是不是完全没有违和感。
Letting him stand in my position to take a picture was totally harmonious.
好了,收起相机离开这,我要带着娃去逛逛常州的其它公园了,再见,我的童年。
Well, it's time to take up my camera and leave this here. I'm going to take my boy to explore the other parks in Changzhou. Goodbye, my childhood.
---
Photos, words, and even translation by Xiao Tang