This past Saturday marked SupCZ's very first attempt at 7 workshops in one afternoon. This "CRAZY"  idea is from, guess you've already figured out, our resident crazy woman, Theresa, who tackled 4 of the 7 workshops: Jewelry making, Story Plants, Wacky Lab: Slime, and a 3 hour evening care program we dubbed "Date Night." The direct result was that her lovely voice turned into a sexy, husky voice (a la Scarlett Johansson) by the end of the 3rd workshop, much to the endless amusement of Kirsten and our Sup-helper (Supper?) for the day, Stella. 这是SupCZ首次尝试一个下午做7场活动。这一"疯狂"的想法来自……你们都猜到了,我们的女超人:Theresa。她一人承包了其中4场活动:手工戒指制作、有故事的植物、童趣实验室、以及长达3小时的小朋友的聚会。而这些活动给她带来最直接的影响,一副性感无比的"烟嗓",听起来还有点像斯嘉丽·约翰逊呢。特别感谢Kirsten和Stella的帮助。
But most importantly, we need to give our heartfelt thanks to our other 3 amazing friends: Israeli dancer Aviv, Canadian photographer Richard, and international street dancer Dias, who shared multicultural experiences with us.
同时,我们还要感谢另外三位有趣的朋友:来自以色列的舞蹈家Aviv,加拿大籍摄影师Richard,国际街舞舞者Dias。感谢他们给我们带来了多元文化的体验。
People overwhelmingly loved their classes. SupCZ member Melody who has been a fan of SupCZ for years, signed her daughter up for three classes that afternoon. So far, as soon as we announce any of our kids' workshops, she immediately gets her daughter on the class list.
大家都很喜欢他们的课程。Melody, SupCZ多年来的忠粉,周六下午她陪着女儿来参与了3场亲子活动。只要SupCZ发布亲子工作坊的内容,她基本都会带着女儿来参与。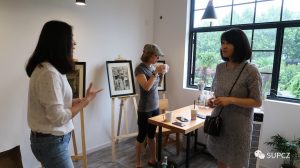 Ms. Zhao is another avid fan of craft and dance classes. During Aviv's class, she said, "Her class is so fun! Unlike normal dancing classes, it focuses more on releasing your own nature and expressing yourself. It's a very special experience for me."
赵女士,也是SupCZ忠粉一枚。只要有手工或舞蹈课程,她一定会参与。第一次参与Aviv的舞蹈课。她就表示很喜欢,"她的课特别有趣,不像我们平时上的舞蹈课,她的课更注重释放天性,表达自己。对我来说是很不一样的体验。"