Join SupCZ and Sail Fish Kayak Club bright and early on May 27th as we catch a glimpse of Changzhou from an unusual angle!
5月27日上午8:30
下午3:30
快来加入SupCZ和赛飞奇赛艇俱乐部!从另一个视角一览常州风光!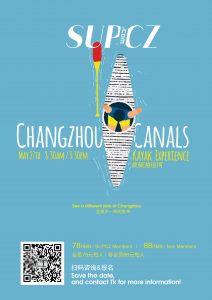 With its broad roads and towering buildings, Changzhou may not feellike a water town, but for much of the city's history Changzhou's waterways have served as a major commercial avenue for the city and connection with the outside world. Now, you can cruise around those very canals in the coolest way possible: by kayak!
由于楼高路宽,常州看上去并不像是个江南水乡,但从历史来看,常州的运河水路已成为该城市的主要商业大道以及与外界的沟通渠道。现在,您可以以最酷的方式——划皮划艇巡游运河。
The Big Plan
After a brief safety rundown, we'll launch from NanGang wharf. The group will have the option of two routes: (a) head west toward Canal 5 or (b) paddle around Dongpo Park and sightsee along the newly renovated-but-not-yet-open-to-the-public Qingguo Alley. The tour will take approximately two hours or so and we'll get you back to dry land in time for lunch.
经过安全检查,我们将从南港码头出发。体验小组可选择两条路线:(a)一路向西到运河5号返回。(b)环绕东坡公园然后青果巷内河观光。行程大约需要两个小时,我们会及时让你们吃上午饭。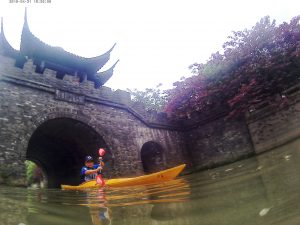 Our Kayaking Friends at Sail Fish赛飞奇赛艇赛俱乐部
Sail Fish is a full-service kayaking club that offers experienced kayak teachers and guides, a collection of well-kept quality kayaks, and great deals on acquiring your own kayaks and trips to gorgeous kayaking spots. Everyone involved with Sail Fish is passionate and experienced when it comes to kayaking, and it shows both in the attention they pay to safety and the care they take when planning excursions. The club has multiple membership tiers boasting a variety of services, including insurance and the opportunity and flexibility for kayak fans to hit the water on their own schedule.
赛飞奇是一家全方位服务的皮划艇俱乐部,有经验丰富的皮划艇老师和导游,多种高质量皮划艇,还有很多优惠活动。赛飞奇俱乐部的每个人都对皮划艇充满激情并且有丰富的经验,他们的专业表现在规划短途旅行时对安全和细节的关注。俱乐部有不同会员级别,提供各种服务,包括保险,皮艇爱好者还可根据自己的时间表灵活安排进行皮划艇的时间。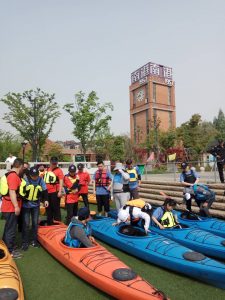 When: May 27th 8:30am / 3:30pm
Where:Nangang wharf No. 7, Taoyuan Road, Tianning District, Changzhou
Price: 78 RMB / SupCZ Members;
88 RMB / Non-members
时间:5月27日上午8:30 / 下午3:30
地点:常州市天宁区桃园路7号南港码头
价格:SupCZ会员78元/人;
非会员88元/人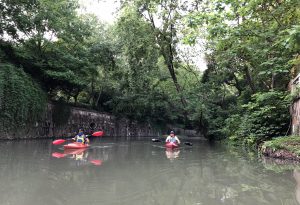 I want to kayak the canals but I have a meeting/class/romantic brunch/wicked hangover that day!
Please get in touch with us anyway if this sounds great to you but you just can't make that time, there are a few possibilities from buying a yearly Sail Fish membership (this is a really, really great deal if you already know you like kayaking or think you might) to the possibility of future opportunities to kayak the canals and maybe even other locations around Changzhou.
如果也想皮划艇游运河,但那天又有事情怎么办?
这次没有时间参加体验课也没关系,只要你对皮划艇游运河很感兴趣,就与我们联系。购买赛飞奇的年会员(如果您真的很喜欢皮划艇的话,购买年会员真的很划算)未来会有更多机会划着皮划艇游运河,甚至可能在常州周边的其他地方划游。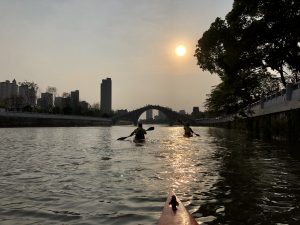 Notes: The fee for this activity includes insurance, use of boat, paddle, and life jacket for 2-2.5 hours, and a bottle of water. While we would love to be able to provide our services for free, SupCZ fees (as well as library memberships and advertising in SupCZ Magazine) help us afford rent, library staffing, books, art and craft supplies, original content, printing costs for our magazine and an assortment of other little odds and ends, and also make our volunteer team, VolunteerCZ, possible. We happily accept donations of time and/or funding for any/all of our programs.
注:活动的费用包括保险,使用船,桨和救生衣2-2.5小时,以及一瓶水。尽管我们希望能够免费提供活动,但我们需要支付房租、工作人员工资、买书、支付杂志稿费印刷费等,所以我们还是要收取一些课程和活动课费用(包括SupCZ图书馆会员费和杂志广告费),同时,我们也需要资金维持我们的志愿者团队——VolunteerCZ。我们欢迎愿意为我们的活动等项目捐赠时间或提供资金支持的人。