Did you make it to our first SupCZ Saturday on May 19th? Did you miss all the fun? Well, either way you're in luck because this Saturday we're doing it all again! This week, we've got some special goodies in store for you, both old and new.
有没有参加5月19日SupCZ首个周六活动趴?还是错过了活动趴?不管怎样,你很幸运,因为这个星期六活动趴将继续!本周我们将继续一些疯狂有趣的活动!
What's In Store?
This week, we're starting things early with a new storyteller for our Story Crafts program. At 10:30am, American storyteller and crafter Amanda Stewart will tell us a story about a very busy spider and then show us all how to make very busy spiders of our own. We'll then break for lunch. If you don't want to wander far, check out one of Guoguang's many wonderful restaurants. Metoo Café is even offering a Saturday discount for SupCZ library members!
本周,我们邀请到新朋友给大家讲故事和做相关手工。上午10点半,来自美国Amanda Stewart将会给我们讲述一只非常忙碌的蜘蛛的故事,然后向我们展示如何制做属于我们自己的忙碌的蜘蛛。讲故事活动结束后就是午饭时间啦。如果你不想走远,国光附近就有很多不错的餐馆, 米图咖啡还会为SUCZZ图书馆会员特别提供星期六优惠活动!
At 1:30pm Israeli dancer Aviv will hold another fantastic Body Percussion class. If you're kids have only taken dance classes in China before, then they've never done anything like this.
下午1:30,以色列舞者Aviv将开展儿童现代舞形体基础课。如果你的孩子之前只参加过中国的舞蹈培训班,那么一定要让他们来体验一堂不一样的舞蹈课。
At 2:45pm Aviv will continue with her Improvisational Dance class for adults. This is another special treat that isn't really being taught anywhere else in China, much less Changzhou. This class is going to be your last shot to try it out until mid-June as our dancer has some very important business to take care of for a couple weeks.
下午2时45分,Aviv将继续为成人开展即兴舞蹈课。其特别的授课方式也是中国市场所缺少的,在常州更是罕见。一定要抓住机会体验,六月中旬,我们可爱的舞者Aviv因为一些非常重要的事情要处理,所以将有一段时间无法给舞蹈爱好者们授课。
Theresa Boersma is also continuing her Wacky Labs program in our 2:45pm timeslot. This week, she'll be leading an investigation into the magical properties that make bread and butter possible. Students will explore different properties of yeast and even get the chance to transform liquid cream into real, edible butter.
下午2点45分,Theresa Boersma也继续她的古怪实验室计划。本周,她将带着爱探索的朋友们一起研究面包和黄油的奇妙产生。学生将探索不同性质的酵母,甚至有机会将液态奶油转化为真正的食用黄油。
Stay tuned!
敬请期待!
*StoryCrafts with Amanda Stewart故事角
In this expanded and active story time for the little ones, Amanda Stewart will read Eric Carle's classic, The Very Busy Spider, and show everyone how to make their own spiders.
这次,我们吸取经验,将故事角时间延长,Amanda Stewart将阅读Eric Carle的经典《忙碌的蜘蛛》,并展示如何制造手工蜘蛛。
Time: 10:30am-12:00上午10:30-12:00
Price: 78rmb/library members; 88rmb/non-members
价格:图书馆会员78元/人;非会员88元/人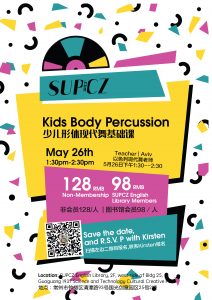 *Kids Body Percussion with Aviv Asulin少儿形体现代舞基础课
Israeli contemporary dancer Aviv will lead children (5 & up) on an exploration of some fantastic things they can do with their bodies.
以色列当代舞蹈家Aviv将带领5岁及以上的儿童探索用自己身体可做的不可思议的事情。
Time: 1:30-2:30pm下午1:30到2:30
Price: 98 rmb/library members; 128 rmb/non-members
价格:图书馆会员98元/人;
非会员128元/人
*Improvisational Dance with Aviv Asulin即兴舞蹈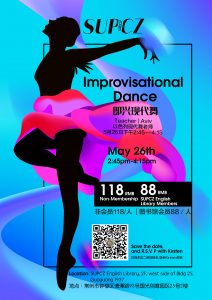 While many forms of dance rely upon improvisation, improvisational dance explores new and creative ways of moving and utilizing the body free from restrictions imposed by other forms of dance. It's a style of dance practiced often practiced by Western dance companies, but not so often practiced in China.
尽管许多形式的舞蹈依赖于即兴创作,但即兴舞蹈探索出新的移动方式,可做一些受限于其它形式舞蹈的动作。即兴舞蹈属于西方舞蹈文化中的的一种常见舞蹈风格,但在中国并不常见。
Time: 2:45-4:15pm下午2:45-5:15
Price 88 rmb/library members; 108 rmb/non-members
价格: 图书馆会员88元/人; 非会员108元/人
*Wacky Lab: Bread & Butter with Theresa Boersma古怪实验室:和Theresa Boersma一起探索面包与黄油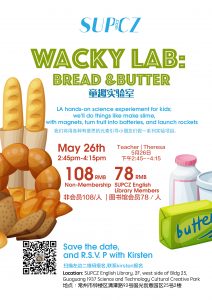 We all know they're crazy about bread and butter in Europe and North America, but have you every thought about the processes that have to take place to make these distinctive foods? Kids will get to roll up their sleeves and investigate the transformations that make bread and butter possible.
我们都知道欧洲和北美洲对面包和黄油很着迷,但是你有没有想过这些食材的生产过程呢?孩子们会卷起袖子,一起探索面包和黄油的奇妙产生。
Time: 4:30-6pm 下午4:00-6:00
Price: 78 rmb/library members; 108 rmb/non-members
价格:图书馆会员78元/人;非会员108元/人
Notes: Class and workshop fees all include coffee/tea/water and a light snack. While we would love to be able to provide our services for free, class and workshop fees (as well as library memberships and advertising in SupCZ Magazine) help us afford rent, library staffing, books, art and craft supplies, original content and printing costs for our magazine, and also make our volunteer team, VolunteerCZ, possible. We happily accept donations of time and/or funding for any/all of our programs.
注:课程和活动课费用全部包括咖啡/茶/水和小吃。尽管我们想提供免费服务,但我们需要支付房租、工作人员工资、买书、支付杂志稿费印刷费等,所以我们还是要收取一些课程和活动课费用(包括SupCZ图书馆会员费和杂志广告费),同时,我们也需要资金维持我们的志愿者团队——VolunteerCZ。我们欢迎愿意为我们的活动等项目捐赠时间或提供资金支持的人。