Looking for a peaceful, cultural retreat for a weekend away from bustling city life? Jiangzu's Taizhou, the "Phoenix City" is a lush gem a mere few hours trip from the urban crowds of Shanghai and Nanjing.
想要远离城市的喧嚣,过一个安宁且充满文化气息的周末?有凤凰城美誉的江苏泰州一个非常不错的选择,从上海和南京出发只需几个小时的行程。
Built in the 6th year of the reign of Emperor Yuanshou of the Han Dynasty (117 BC), Taizhou has modernized while still remaining true to its roots. A modest (by Chinese standards) collection of skyscrapers overlooks a wealth of ancient and pristine gardens and ancient streets. Waterways snake around and through the city. Of these, the Fengcheng River ("Phoenix City River") is perhaps the most famous and the most beloved by locals for its centuries spent serving as a major source of sustenance and transportation for the city, nourishing its people and its growth since ancient times.
泰州建成于武帝元狩六年(前117),现在泰州已经是个现代化的城市,不过仍然保持着它的根基。一个略简朴的摩天大楼俯瞰着古老原始的园林和有历史的街道。水路蜿蜒流过城市。其中,凤城河(凤凰城河)应该是最著名和最受人喜爱的地方,数百年来,凤城河一直是城市的主要食物来源和交通方式,自古以来滋养了其人民和整个城市的成长。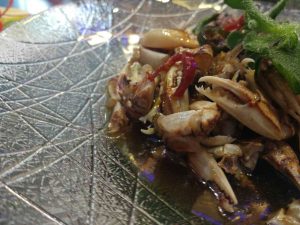 I arrived in Taizhou on a bus from Changzhou on April 26th. The two-hour trip meant I was still energized for 26 hours of ancient gardens, fresh farm-to-table fare, and a few surprises. My first stop, lunch, was a Su Style feast, populated heavily with seafood thanks to Taizhou's proximity to fresh and saltwater sources. Delicate fish rested beside crab, shrimp, and a rainbow of fruits and vegetables.
4月26日,我从常州乘坐大巴来到泰州。两个小时的行程意味着我仍然有26个小时漫步古园林,去农场享用新鲜的美食,以及一些未知的惊喜。我的第一站,也是我吃午饭的地方,是一家苏式餐厅,有丰盛的海鲜,这要
归功于泰州接近湖水和海水源。餐桌上有鱼、螃蟹、虾还有各种水果和蔬菜。
With a satiated stomach, it was a quick hop to Qiao Garden in downtown Taizhou. Qiao Garden is the oldest private garden in northern Jiangsu. In classical style, stone paths meander around fish ponds, pavilions and carefully arranged thickets of bamboo. The tranquility of the garden quickly erases memories of the city without. Here, time stops. It is said that former Chinese president Hu Jintao, a Taizhou native, used to play with his friends in this garden when he was a boy. The famous Beijing Opera actor, Mei Lanfang, yet another famous Taizhou resident, also lived in a tiny pavilion in this garden for a few years.
酒足饭饱后,我便来到了位于泰州市中心的乔园。乔园是苏北最古老的私家园林。
传统古典风格中,石道蜿蜒穿插和环绕在鱼塘、亭台楼阁和精心排列的竹林周围。园林的宁静很快就会让人忘记城市的喧嚣。在这里,时间似乎停止了。据说,前国家主席胡锦涛就是土生土长的泰州人,并且从小就跟伙伴们在这园林玩耍。著名的北京歌剧演员梅兰芳祖籍也是泰州,他还曾在这个园林的一个小楼阁里住了几年。
After wandering through the safe enclosure of Qiao Garden, I headed to the expansive Peach Park (Tao Yuan). Named for the peach trees that color the park with their cheery blossoms during the spring, Peach Park is one of those decorative riverside boardwalks that offers both lovely views of the city and excellent recreation options for strolling or walking. During the day groups of older residents meander along the broad walking paths, chatting and taking in the scenery.
逛完乔园,我便去了桃园。桃园因在春天满园盛开的桃花得名,桃园是一个装饰性的滨河木板路,它既能提供城市的美景,也能提供散步或步行的绝佳休闲选择。桃园算是一个河滨公园,既可以欣赏到可爱的城市景观,也提供散步等极好的娱乐选择。白天,一些老居民沿着宽阔的小径漫步闲谈,欣赏着沿途的风景。
A hop, skip, and a jump away from Peach Park, Mei Yuan is another more intimate classical garden and home to the Mei Lanfang Memorial Museum. Lei Lanfang (1894-1961), is one of Beijing Opera's most revered figures. He's also the first Beijing Opera performer to tour internationally, visiting countries like Japan, the U.S. and Russia to introduce foreign audiences to their first taste of the Chinese art form. Interestingly for novices to Beijing Opera, it's Mei's talent for playing female characters that earned him such renown.
接下来我来到了离桃园只有一步之遥的梅园,梅园是另一个古典花园也是梅兰芳纪念馆。梅兰芳(1894-1961),是最受尊敬的京剧大师之一,也是第一位举办国际巡回演出的京剧演员,曾访问日本、美国以及俄罗斯等国,把京剧表演带向世界。梅兰芳因扮演女性角色出名。
In Mei Yuan, Qing and Ming style pavilions house museum style displays, telling the story of Mei Lanfang's life. In the courtyards around these structures, families feed fish and pose for pictures in front of statues of the famed opera artist. More than half a century after his death, this memorial park dedicated to his memory continues to draw young and old fans.
园内清、明建筑风格展厅的陈列物向我们讲述了梅兰芳的生活。在这些建筑的庭院里,有梅兰芳的雕像,游客们在池塘旁喂鱼,拍照六年。在梅兰芳逝世这么久后,这个纪念园还是不断吸引着各个年龄段的剧迷。
After spending the better part of the day enjoying cultivated gardens and museums, a meal in Taizhou's "Old Street" was much deserved. Contrary to the name, the renovations to the area were fairly recent, but they were carried out with sensitivity to the Taizhou's long history and the result is a lovely area to enjoy a good meal, a stroll, or evening dancing.
在一天中最好的时间段游览了公园和博物馆后,当然需要在泰州的"老街"饱餐一顿。与名字相反,对该地区的改造以及使"老街"焕然一新,但是他们对泰州悠久的历史还是很敏感,后来我们去到了一个非常棒的地方享用美食,还有饭后散步或跳舞。
On April 27th, I greeted the sun with Taizhou's version of "morning tea." Unlike breakfast, when one is invited to "morning tea," it always feels like a bit of an event. Delicacy after delicacy was paraded out in steamer baskets, bowls, cups and plates. Every city in China seems to have its morning specialties and in Taizhou, the crown jewel is a steamed bun filled with crab and pork, oozy golden juices even before the first bite is taken.
4月27日,泰州"早茶"开启了我的一天。和早餐不同,当一个人被邀请去吃"早茶"时,总感觉像是一件大事。精致的美味佳肴陈列在蒸笼、碗、杯子和盘子中。在中国,每一个城市似乎都有其特色早餐,泰州蟹黄猪肉包,咬下一口便会渗出浓郁金汁。
Stuffed to the brim, the penultimate stop on my quick tour was the Qinhu National Wetland Park. Qinhu Wetland Park is a nationally ranked 4A tourist attraction, and the first of its kind in Jiangsu Province. There are 153 species of wild plants and 97 species of wild animals that call the park home.
旅行临近尾声,旅程的倒数第二站我来到了溱湖国家湿地公园。溱湖国家湿地公园是全国4A级旅游景区,也是江苏省第一个湿地旅游景点,园内有153种野生植物和97种野生动物。
Before you make it to this natural haven, however, tourists must board a colorful boat for a quick trip past a dazzling parade of water floats. Dragon dancers, drummers and other performers shoot by on either side with great fanfare and noise.
在亲近这个天然避风港之前,游客必须登上一艘小船,匆匆掠过水上花车。舞龙舞者、鼓手和其他表演者在两边欢声鼓舞。
After the excitement of the boat trip, the natural atmosphere of the wetlands is especially peaceful. Here, a museum welcomes visitors with a quick educational debriefing about the park and its inhabitants followed by a walk out to a fleet of bamboo boats. If you're lucky, your boat driver will treat you to a traditional song as you cruise through the forest framed waterways. I never was lucky, but I did get to marvel at the singing wafting out of nearby rafts.
乘船游览的躁动后则是湿地的自然平和。迎接游客的首先是博物馆,在博物馆游客们可大致了解公园,然后走出去有一排竹船。如果幸运的话,围绕湿地边缘的水路巡航时,船只司机会高歌一曲传统歌谣。我就没有那么幸运了,不过我还是惊叹于附近竹筏传来的歌声。
In some sections of the park, there are activities to entertain visitors, ranging from demonstrations of traditional agricultural production and tools – Ever pump water with your feet? It's harder than it looks—horseback riding, and even a bit of shopping for natural, handmade products. However, it's the stroll through the forest paths, listening to the twittering and rustling of birds and other animals that makes Qinhu Wetland Park such a treat.
在公园的某些区域,有许多活动可供游客参与,传统的农业生产和工具示范-用脚抽水?比看上去难多了的骑马,还有一些可购买的天然手工艺品。漫步在森林小径中,听着鸟儿的叽叽喳喳声还有其他动物的沙沙作响,真的太享受了。
Of course, there are also restaurants in the park, and I sat down at one of these for a final meal of Taizhou dishes before heading back into town to begin my journey home.
当然,公园里也有餐厅,我在其中的一个餐厅吃了泰州菜,然后便返程回家。
Accommodation Recommendation:
While there are many wonderful hotels in Taizhou, on my brief visit, I had the pleasure of staying at the Hotel Nikko Taizhou, a sleek, fashionable international hotel in Taizhou's New High Tech Development Zone.
住宿推荐:
泰州有许多不错的酒店,但在我短暂的旅程中,我很高兴住在位于泰州高新技术开发区的一家舒适时尚的酒店——泰州日航酒店