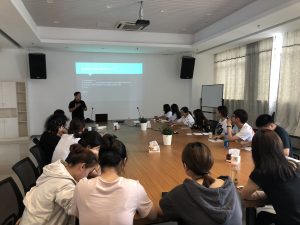 In late April, our volunteer team visited Tian Ai Children's Rehabilitation Center for the first time. Through this visit, our volunteers learned that the teachers of Tian Ai need to learn how to use basic and professional English as soon as possible to communicate with special education teachers abroad.
四月下旬的时候,我们的志愿者队伍第一次走进了天爱儿童康复中心。也正是因为这次深入的探访,使我们的志愿者了解到,天爱的老师们,需要尽快学会基本的、和专业相符的英语对话,以便和国外的特殊教育老师进行工作交流。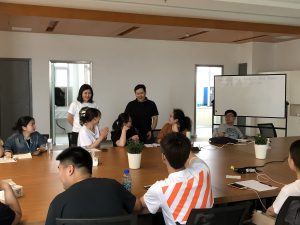 On the afternoon of May 19th, our first volunteer English teacher Michael and two warm-hearted assistants, Jessica and Grace, arrived for the first English class for the teachers of Tian Ai. Michael is humorous, and he patiently corrected errors for teachers. The two assistants enthusiastically helped Michael. The teachers of Tian Ai cherished this opportunity, carefully listened and actively interacted. Well enough, it seemed.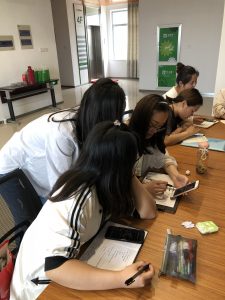 5月19日下午,我们首位志愿英语老师Michael、两位助教Jessica和Grace组成教学小组,为天爱的老师们上了第一节英语课。Michael老师风趣幽默,耐心地为老师们纠正语句;两位助教悉心协助;天爱的老师们认真聆听,积极互动。第一次试上,就取得了不错的效果。
Each Saturday afternoon in future, we will try to arrange more English courses for the teachers of Tian Ai in order to better help them progress in their language goals. We welcome any and all volunteers who want to join our teaching team and share in this unique and meaningful volunteer work.
今后每周六的下午,我们都将尽量为老师们安排英语课程,以便形成系统的学习。也欢迎越来越多的朋友加入我们的教学队伍,共同参与到这份别样的、有意义的志愿服务中来。