Hungering for a break from the from urban cityscapes? China's still got a wealth of offerings for nature lovers. Guizhou province is often overlooked by Westerners looking to get a taste of China. But with its jaw-dropping geologic formations and remote villages tucked in among one of China's biggest plant and vertebrate diversity hotbeds, there's a lot to love in this corner of the country. I recently had the opportunity to spend a few glorious days sampling some of Guizhou's most famous sites (not to mention its flavorful cuisine) and came away from the experience hungering for more.
---
渴望从城市景物中解脱出来吗?中国依然为大自然爱好者们提供了丰富的资源。贵州常常被想感受中国的西方人所忽略。但是,贵州作为中国动植物多样性的最大温床之一,有着令人惊叹的地质构造和不为人知的偏僻村庄,这个角落有很多令人着迷的地方。最近,我有机会花去些时间,体味了贵州最有名的一些景点(更不用说那里的美味佳肴了),体验后意犹未尽。
Welcome to Guizhou | 贵州欢迎你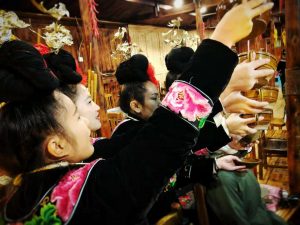 I arrived in Guiyang, Guizhou's capital late on a Saturday night. My flight from Changzhou on Colorful Guizhou Airlines had been an easy one, a little more than two hours from end to end. In the run up to my trip, I'd peppered friends with questions about the province. Expats tilted their head to one side and said, "Guizhou? Where's that?" Changzhou friends were more encouraging. Several adventurous souls had tales of road trips through and homestays in quaint mountain villages and warnings of the spiciness of the local food. Armed with these tales, I felt pretty optimistic about what awaited me.
Once you leave the city, however, the landscape quickly consumes the man-made structures.

然而一旦你离开城市,景观很快就会过滤这些人造建筑。
I didn't get to spend much time in Guiyang aside from eating at a couple of the city's better known restaurants and hunting down a Starbucks for a coffee fix after a broken coffee machine incident at my hotel. With its sky-tickling towers, broad, airy avenues, and familiar Chinese and international brand shops, the urban center feels like a lot of mid-to-large sized cities around China. Once you leave the city, however, the landscape quickly consumes the man-made structures.
Economically, Guizhou is one of the poorest provinces in China. Its per capita GDP is the lowest in the country. A lot of this is thanks to challenges posed by its picturesque mountains. Much of the transportation in and out of Guiyang is via winding mountain roads that swirl around the forest clad stone giants. Tellingly, when the communists were reeling from seemingly insurmountable odds during their revolution, it was to Guizhou that Mao Zedong led them on The Long March. The retreat gave them the chance to recoup for their eventual victory. Even now, much of the province continues to feel incredibly remote, a world away from the megacities of the east.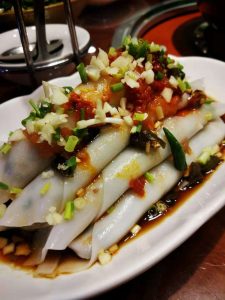 ---
我星期六晚上抵达贵州省会贵阳。从常州起飞到达多彩贵州的航班非常方便,差不多飞行两个多小时。在旅途中,我向朋友们询问有关该省的一些问题。居住在中国的这群老外们歪着头说:"贵州?那是哪里?"而常州的朋友比较鼓舞我,几个勇于冒险的人们讲述了他们穿越公路的旅行,在古朴山村里的投宿故事,以及警告我当地食物味道的辛辣。有了这些经验,对于等待着我的事物,我感到非常乐观。
在贵阳,除了在几家比较有名的餐馆吃饭,在饭店咖啡机发生故障后,我并没有花去多少时间,便找到了星巴克咖啡。市中心有令人心旷神怡的塔楼,宽阔、通风的林荫大道,以及熟悉的中国国内及国际品牌门店,这感觉就像中国的许多大中型城市。然而一旦你离开城市,景观很快就会过滤这些人造建筑。
在经济上,贵州是中国最不富裕的省份之一,其人均国内生产总值为全国最低的。幸好风景如画的山脉所带来的挑战,进出贵阳的大部分交通不得不通过蜿蜒的山路绕过森林覆盖的石巨人。很显然,当共产党人在革命期间从看似无法克服的困难中挣扎时,毛泽东带领他们去了贵州,撤退使他们有机会夺取最后的胜利。即使是现在,这个省的大部分地区仍然感觉非常偏远,远离东方大城市的另一个世界。
Libo Zhangjiang Scenic Area: A Fairyland Brought to Life | 荔波樟江风景名胜区
Tucked away along the border with Guangxi Province, about a four-hour drive away from Guiyang, Libo County is home to some stunning natural sites at the expansive Libo Zhangjiang Scenic area, a part of the South China Karst UNESCO World Heritage Site. Named after a seven-arched bridge built in 1835 that has weathered the ravages of years and is the icon for Libo Zhangjiang Scenic Area, the Xiaoqikong ("Seven Small Arches") section of the scenic area is a photographer's dream. Clear turquoise pools and streams meander around lush green mountains and bubbling waterfalls. Sightseeing cars help make the great distances between landmarks accessible in Xiaoqikong, but even so, it's a good idea to leave plenty of time for a visit as lingering feels like a must. My visit was squeezed into three hours, and I probably could have contentedly wandered for at least another three.
Daqikong ("Seven Big Arches") has a grander name, but occupies a smaller area. A river-dug gorge forms the heart of the route, flanked by footpaths and bridges for sweeping views. The site's most iconic feature is the Nature Bridge, an eighty meter high natural arch—the result of a collapsed underground river—that towers over everything. Although the scenery can feel massive, a visit to Daqikong can be completed within a couple of hours.
Clear turquoise pools and streams meander around lush green mountains and bubbling waterfalls.

清澈的绿松石色池水和小溪流,蜿蜒在郁郁葱葱的山峦和瀑布上。
---
毗邻广西边境,距贵阳约四小时车程。荔波县位于辽阔的樟江风景区内,是联合国教科文组织世界文化遗产的一部分。以1835年建成的七拱桥命名,这座桥经受了岁月的摧残,是荔波樟江风景名胜区的标志,小七孔景区是摄影师们的梦想拍摄地。清澈的绿松石色池水和小溪流,蜿蜒在郁郁葱葱的山峦和瀑布上。观光车使小七孔和各个地标之间的距离变得不再遥不可及,但即便如此,给旅行者留足时间游览想必到的浏览地,是值得的。但我的行程被压缩成了三个小时,如果可能,我会心满意足地漫游至少再三小时。
大七孔景区有一个大气的名字,但占地面积较小。一条河流冲击出的峡谷构成了路线的中心,两侧是人行道和桥梁,以俯瞰美景。这个遗址最具标志性的特征是自然形成的桥,一座80米高的自然拱门,是地下河流坍塌形成的结果,高耸于万物之上。虽然该区域有大量风景,但几小时内可以完成大七孔景区的游览。
Singing and Sour Fish | 唱歌和酸汤鱼
After a couple of days, marveling at nature, it was time to hit the winding road again. Another four hours of driving brought me to Kaili, a city of half a million people that also acts as the seat for the Qiandongnan Miao and Dong Autonomous Prefecture. Kaili is famous inside and outside of Guizhou for its abundance of ethnic minorities and its sour fish soup.
Of all the flavorful dishes to be found in Guizhou, Sour Fish Soup—consisting of a fresh locally caught fish, served up in a bubbling broth of tomatoes, chili, beansprouts, and assorted spices—is king…

在贵州发现的所有美味佳肴中,酸辣鱼汤由新鲜的本地鱼,在西红柿、辣椒、豆芽和各种调味品的泡沫汤中-这才是王道…
Fans of Sichuan and Hunan cuisine will find much to love in Guizhou's spicy and pungent flavors. Home to China's most (in)famous liquor brand, Moutai, Guizhou has the art of fermentation mastered and this also shows up in the local cuisine. Fermented seeds and vegetables are a common ingredient, lending many dishes interesting multidimensional sour notes that enhance rather than detract from the freshness of the raw materials.
Of all the flavorful dishes to be found in Guizhou, Sour Fish Soup—consisting of a fresh locally caught fish, served up in a bubbling broth of tomatoes, chili, beansprouts, and assorted spices—is king, and the Sour Fish Soup found in Kaili is considered the best of the best. I must admit, after a long, chilly ride, the Sour Fish Soup I tried in Kaili for lunch that day was spectacular. Complex, warm, and flavorful, it chased away the chill that had seeped into my bones.
Many ethnic minorities live in and around Kaili, and thanks to tourism to the area, villages have been able to capitalize on their traditions to bring in revenue. After lunch and a shortish drive, I arrived at Xijiang Miao Village, the largest Miao community in China. Zijiang is home to over 1000 Miao families who still follow customs that have been passed down through generations.
The Miao live in wooden houses, built up the slopes of hills and mountains. They do this to maximize arable land for farming. Xijiang's structures cluster together across two hills. The Miao are famous for singing, dancing, and silversmithing. In the evenings, music wafts out from across the village, twinkling with thousands of lights. Restaurants lure dinnertime guests with musicians, singing waitresses and promise of special "long table" dinners.
In the Miao culture, special occasions and special guests are times for special dinners served at long tables. Guests are plied with locally brewed liquor. The Xijiang specialty is a sweet rice wine that goes down far too easily to stay sober long. Back at lunch in Kaili, my tour guide had warned that the village food was an acquired taste that even many Chinese people didn't care for. "It's okay if you don't eat much, but please try it." However, my dinner in Xijiang would end up being one of my favorite in Guizhou with novel flavors and ingredients fresh from the local fields and forests.
---
几天之后,惊叹于大自然,是时候再次踏上这条弯弯曲曲的道路了。四个多小时的车程把我带到了凯里,这个有着50万人口的城市也是黔东南苗族侗族自治州的所在地。凯里因其大量定居的少数民族及其酸汤鱼而闻名于贵州内外。
四川和湖南菜的忠粉会发现贵州辛辣和刺激的味道。贵州茅台是中国最著名的白酒品牌,它掌握了发酵的艺术,甚至体现在当地的菜肴中。发酵的种和蔬菜是常见成分,这样给许多菜肴注入有趣的多维酸性,增强而不是减弱原料的新鲜度。
在贵州发现的所有美味佳肴中,酸辣鱼汤由新鲜的本地鱼,在西红柿、辣椒、豆芽和各种调味品的泡沫汤中-这才是王道,而在凯里发现的酸味鱼汤被认为是最好的。我不得不承认,经过一段漫长而寒冷的旅程,那天我在凯里吃到的酸辣鱼汤非常惊艳。口感丰富、温暖、可口,驱走了渗入我骨髓的寒意。
许多少数民族生活在凯里和周边地区,由于旅游业的发展,乡村已经能够利用他们的传统来带动收入。午餐和短途车后,我来到了中国最大的苗族社区西江苗村。紫江有1000多个苗族家庭,他们仍然沿袭世代流传的习俗。
苗族居住在木屋中,建在山丘和山坡上。他们这样做是为了最大限度地利用耕地。西江的地形结构在两座山之间。苗族以唱歌、跳舞和银器闻名。晚上,音乐从村子里飘出来,闪烁着成千上万的灯光。餐馆用音乐家、唱歌的女服务员和特别的"长桌"晚餐来吸引前来用餐的客人。
苗族文化中,特殊的场合和特殊的客人是在长桌上享用特殊晚餐的。客人们喝当地酿造的酒。西江的特产是一种甜米酒,酒太容易入口了。在凯里吃午饭时,导游曾警告说,乡村食物是一种后天形成的味道,甚至很多中国人都不喜欢。"不多吃没关系,但请尝尝。"然而,我在西江的晚餐最终会成为我在贵州最喜欢的菜肴之一,有新奇的味道和新鲜的来自当地的田野和森林的原料。
Back to Nature | 回归自然
Anshun, a prefecture-level city southwest of Guiyang, is a favorite location for rock climbers in China. The city is surrounded by a forest-clad limestone landscape,carefully chiseled and shaped over the millennia by underground streams and waterways. This has led to a wealth of jaw-dropping scenery; caves, waterfalls,arches and crags are in abundance. For climbers, the chief attraction tends to be the climbing routes of Getu Valley, but for everyone else, it's the dramatic waterfalls in the area that take top billing, especially the two most famous: Doupotang Waterfall and Huangguoshu Waterfall.
Huangguoshu National Park is home to a lot of waterfalls. In fact, it constitutes the world's largest waterfall cluster with 18 falls throughout the park. Huangguoshu Waterfall, the park's main attraction, is the tallest of these, but Doupotang Waterfall—the second most famous—is the widest. The path to Doupotang meanders through a lovely park, flowing with greenery and dotted with statues. The large, hulking form of Doupotang Waterfall crouches at one end. Most visitors to the park head to Doupotang first before visiting Huangguoshu, which isn't a bad scheme. As the latter waterfall offers a far more dramatic impression.
Huangguoshu Waterfall is the largest waterfall in Asia and the third tallest in the world. It also boasts its own literary reputation. The famous Ming dynasty traveler and geographer Xu Xiake offered this poetic description of Huangguoshu: "The sprays burst apart like pearls and jade, and the foam rises from the rocks like a mist. The waterfall is with such a momentum that even the couplet 'a screen of pearls released from hooks or silk that hangs on faraway peaks' cannot completely describe its majesty." Behind the waterfall is a "Water Curtain Cave," named for the famous home of Sun Wukong—aka "The Monkey King"—the trouble-making protagonist in the famous Chinese epic Journey to the West. Visitors can enter the cave for a very up-close experience of the pounding waterfall.
The approach down to the Rhinoceros Pool in front of Huangguoshu Waterfall is filled with dramatic peekaboo glimpses of the fall from various distances and angles, offering titillating teasers that amp up the experience in a way the Doupotang Waterfall lacks. The Rhinoceros Pool viewing platform also happens to get you impressively close to the monstrous torrent of water, offering a face-full of spray from the falls alongside the booming roar. Unfortunately, the day I visited Huangguoshu, the Water Curtain Cave was closed, so I'll have to find another time to take a peak at Sun Wukong's lair.
---
安顺是贵阳西南部的地级市,是中国攀岩爱好者热爱的地方。这座城市被森林所覆盖的石灰岩景观所包围,经过数千年的精心雕琢,形成了地下河和水道。这导致了大量丰富的下垂景观,洞穴,瀑布,拱门和峭壁。对于登山者来说,最吸引人的往往是葛头村的攀登路线,但是对于其他人来说,最吸引人的是该地区扣人心弦的瀑布,尤其是最著名的两个景点:陡坡塘瀑布和黄果树瀑布。
黄果树国家公园集结了许多瀑布,事实上,它构成了世界上最大的瀑布群。整个公园有18个瀑布。黄果树瀑布是公园的主要景点,它是最高的。但陡坡塘瀑布位居第二,它是最宽的。陡坡塘的小径蜿蜒流过一个娇小的公园,绿树丛生,点缀着雕像。陡坡塘瀑布巨大而笨拙的形状蜷缩在一端。大多数游客去公园之前先去看陡坡塘,这个计划不错,因为后者呈现了更壮观的景观。
黄果树是亚洲最大的瀑布,也是世界上位于第三高度的瀑布,它还拥有文学声誉。著名的明代旅行家和地理学家徐霞客对黄果树提出了这样一种诗意的描述:"浪花像珍珠和玉石一样破裂,泡沫像岩石一样从岩石上升起。瀑布气势磅礴,连挂在远山顶上的钩丝珠楹也不能完全描述它的雄伟。瀑布后面有一个"水幕洞",以孙悟空的故乡"孙悟空"命名。孙悟空——中国著名文学著作《西游记》中的麻烦制造者。参观者可以进入洞穴,感受一次触碰瀑布的零距离体验。
通往黄果树瀑布前的犀牛池的路上,可从各种距离和角度俯瞰瀑布,令人眼花缭乱,心旷神怡。犀牛池观景台也恰好感受到了汹涌的洪流,在瀑布的轰鸣声中,脸上满是水雾。可惜的是,我去黄果树的那天,水幕洞已经关了,所以我得找个时间到孙悟空的洞穴去登顶。
For all the hype surrounding Huangguoshu's famous falls, the park boasts plenty of other natural wonders, including caves and stone forests. My favorite part of the park whas the Tianxing Bridge area where you hop along a winding water-and-stone path through a forest of natural limestone pillars bedecked with creeping trees and cactii. The area is large and confusing enough that upon disembarking the in-park bus, you'll bump into guides offering to orient you on the area map. Many tourists don't have time for this spot in their itineraries, so it's also considerably quieter than the Doupotang and Huangguoshu sections of the park.

虽然被黄果树瀑布的声名所包围,公园里还是有许多其他的自然奇观,包括洞穴和石林。我最喜欢的公园是天兴大桥区,在那里,沿着蜿蜒的水石小路跳跃,穿过一片攀爬树木和仙人掌点缀的天然石灰石柱林。这个地方很大,让人很困惑,所以当你下车时,你会碰到一些向导,他们会给你在地图上指路。许多游客在旅游线路上没有时间去这个地方,所以这个地方也比公园的陡坡塘和黄果树要安静得多。
Just the Beginning | 只是个开始
Guizhou is often overlooked by foreign visitors coming to China, although it's very well-known among domestic tourists. If you visit in the summer or during China's golden weeks, the crowds are sure to be large. However, if you find yourself with an odd week off in spring or fall and need a nature fix, Guizhou's national parks are well worth the short flight. I only had a handful of days in the province and left feeling I only scratched the surface of things to see and do.

贵州经常被到中国来的外国游客所忽略,尽管在国内景区中很有名。如果你在夏天或中国黄金周到访,人流量很大。然而,如果你发现自己在春天或秋天有一个特别的一周假期,并且正好需要自然修复自身,贵州的国家公园很值得短途旅行。我只在省内呆了几天,感觉到我只抓住了一些表象,还有更深入的东西等着我。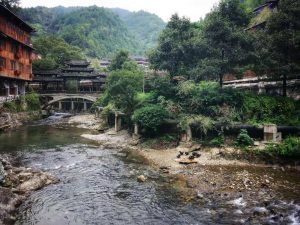 ---
ABOUT US
SupCZ, Changzhou's first bilingual hub for Chinese and foreign cultural exchange, was founded in 2014 by American artist TK and her friends.
SupCZ creates and hosts multi-cultural, inspiring and creative workshops, events, salons and exhibitions by connecting different groups of people and communities to explore life, exchange ideas, and share social networks.
SupCZ是常州第一个中外文化交流双语枢纽,由美国艺术家TK和她的朋友于2014创立。
通过连接不同群体和社区,SupCZ开创和举办多元文化的、具有启发性的和创造性的工作坊、活动、沙龙和展览,一同来探索生活、交流思想、社交互联。