Ready for another boiling hot Changzhou summer?
This year's Dragonboat Festival happens to fall on Father's Day. Are you looking for a way to spice up your holiday schedule? Do you want to take a sightseeing tour or try something a little more special?
炎炎夏日又要到了喂~
小伙伴们,这个端午节正巧遇上了父亲节,
各位放假有着落了吗?是想游山玩水?还是想玩点新鲜又有意义的?
6.17 China Kayak tour • The Ancient City Wall Challenge invites you to join!
Fresh, fun, trendy, stimulating …
Come and challenge your family to a new sport for a memorable parent-child Dragon Boat Festival!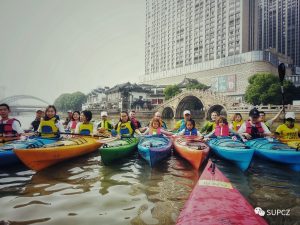 6.17中国皮划艇巡回赛·明城墙挑战赛
邀你来参加!
新鲜、好玩、潮流、刺激……
端午节,和爸爸妈妈一起挑战全新的运动
度过一段不一样的亲子时光
Activity registration rages on!
活动报名火热中!
Event details活动详情:
Time: June 17, 2018 – 9am
Location: The Ancient City Wall Xi Ying Cultural Square (near Comb Alley and downtown Injoy)
时间:2018年6月17日上午9:00
地点:明城墙西瀛文化广场
-single 200-meter race(men)
-single 200-meter race(women)
-double 200-meter race (mixed genders)
-parent-kid 200-meters experience.
1、男子单人200米竞速;
2、女子单人200米竞速;
3、双人200米竞速;
4、亲子200米体验赛。
-single race: 50 yuan/person
-double race: 80 yuan/kayak
1、个人单项:50元/人
2、双人单项:80元/艇
Entry and Registration参赛办法和报名
Participants should be healthy without cardiovascular or organ disease
Each person can enter up to two events
Deadline: June 13
1、参赛人员应身体健康,无心脑血管和器质性疾病;
2、本次比赛针对俱乐部内部成员报名参赛;
3、每人限报名2项比赛。
4、报名截止至6月13日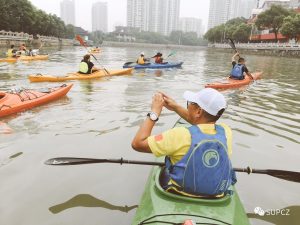 *The distance of each competition is specified, and competitors are ranked by time.
*The competition is carried out in one round without preliminaries, and the results are ranked directly according to the time. The contestants shall contest according to the referee group and complete the competition according to the stipulated distance and time.
*Race Kayak: No limitation on privately owned kayaks; the club provides buccaneer single kayak and doubloon double kayak (provided by the Organizing Committee)
1、本次比赛均按规定的比赛距离,以划行时间的长短评定名次;
2、比赛采用一次比赛方式进行,不设预赛,直接按照划行时间的成绩排名。参赛者按裁判分组进行比赛,按规定的距离和时间完成比赛;
3、比赛用艇:自备艇型不限,俱乐部提供单人艇为海盗,双人艇为双龙(由组委会提供)
*All participants will receive a medal in the tournament.
*The top three competitors in a single race can win one trophy.
*All the players can get club points: 130 points for the champion, 120 points for the runner-up, 110 points for the second runner-up and 100 points for all finishers
1、参与选手均可获得完赛奖牌一枚;
2、单项前三名选手可获得名次奖杯一座;
3、参赛选手均可获得俱乐部积分:冠军130分,亚军120分,季军110分,完赛100分。
The referee and the Arbitration Committee 裁判员和仲裁委员会
The referee and the Arbitration Committee shall be determined by the organizing committee.
裁判和仲裁委员会由比赛组委会确定。
The interpretation and modification of the competition rules shall belong to the organizing committee of this competition
本次竞赛规程解释和修改权属本届比赛组委会。
Matters not mentioned above will be mentioned separately in a Wechat group.
未尽事宜,另行在群内通知。
Scan TK' QR code to register, and include the following information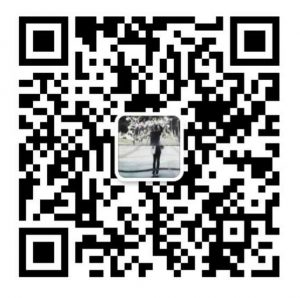 Name, passport (or Chinese ID) number, and birthdate for each participant
扫描二维码报名参加(备注姓名、护照编号或身份证、生日)