In the summer of 2019, Minister Feng Yujuan, Mr Zhao and Olympic champion, Huang Xu, of the gymnastics department of the National General Administration of Sports visited GYMFUN in Changzhou.
刚刚结束的2019暑期,国家体育总局体操部冯玉娟部长、赵老师和奥运冠军黄旭老师来到常州吉米乐体操俱乐部参观。
Benefits of Gymnastics – 体操的益处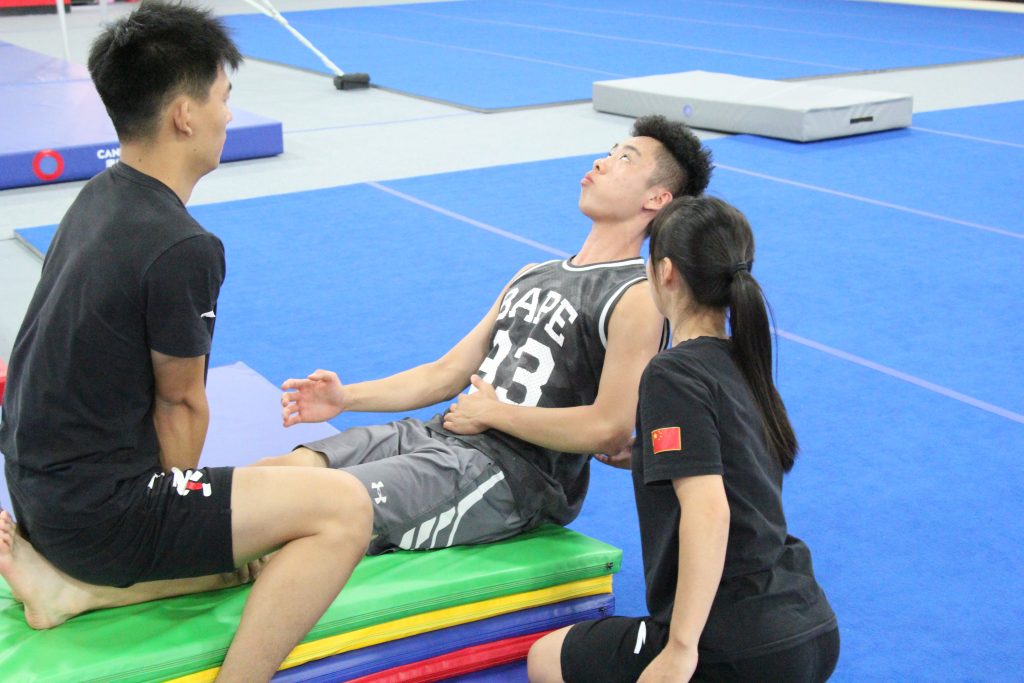 Gymnastics is one of the most challenging sports in the world, but it is also the backbone for other sports. In many sports, top athletes attribute their success to a gymnastics-based foundation.
体操是世界上最具挑战性的运动之一,但它也是其他体育项目取得巨大成功的基石。在其他几项运动中,许多著名的运动员都把他们的成功归功于一个以体操为基础的基础。
In China, gymnastics is a randomly selected program, accounting for 10 out of 30 points in the total P.E. score of the secondary school entrance examination. The National College Sports Association of the United States (NCAA), boasts about 460,000 athletes, 23 sports, and 80 schools offer gymnastics. Many gymnasts in the U.S. receive scholarships to attend their college of choice.
在中国,体操作为随机选择项目,占中考体育总成绩30分中的10分。在美国的全国大学体育协会NCAA,包含46万左右的运动员,23个运动项目,有80所学校提供体操项目。在美国,许多体操运动员靠获得奖学金,以进入他们选择的大学。
GYMFUN – 吉米乐体操俱乐部
GYMFUN covers an area of 1088 square meters. It is not only a training location for the Changzhou City Gymnastics Team, but also the first and largest professional and recreational gymnastic venue in Xinbei District.
吉米乐体操俱乐部占地面积1088个平方,是常州市市体操队训练点单位,也是新北区第一家最大的对外体操专业和娱乐场馆。
Features – 吉米乐的理念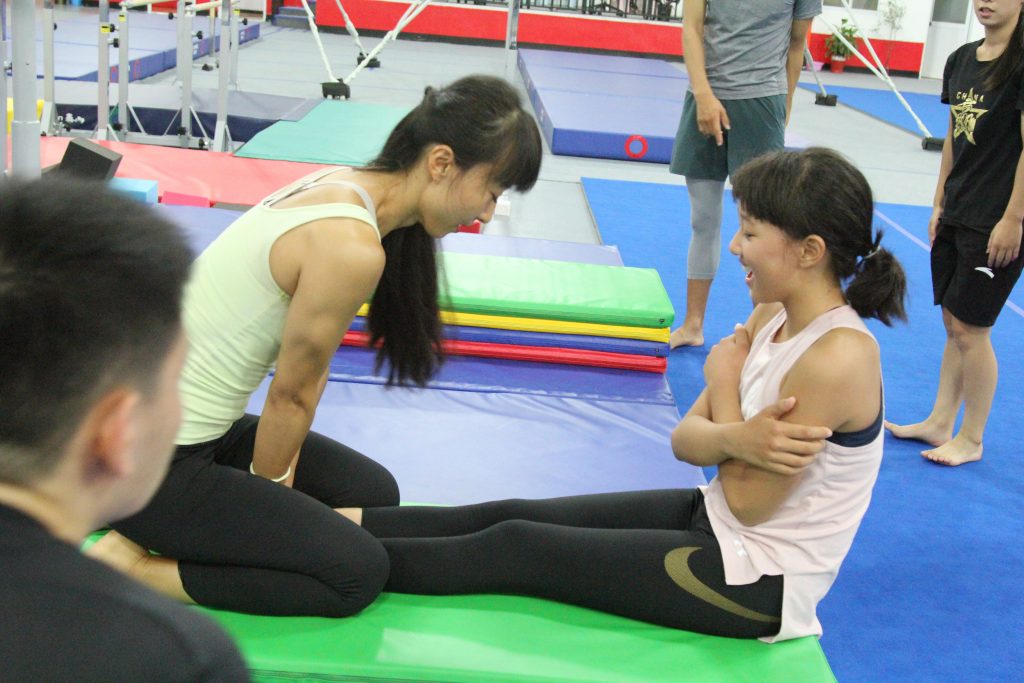 The idea behind our gymnastics program is to encourage children to develop confidence, be aware of their abilities, and strive to realize their potential.
鼓励儿童发展信心,意识到自己的能力,并努力发挥他们的潜力。
To cultivate happy, healthy and confident children, and to create ways to succeed through exercise and gymnastics.
培养快乐、健康、自信的孩子,通过运动和体操创造成功的途径。
Classes help to build coordination, self-confidence and strength, especially the strength of the upper body.
有助于建立协调性、自信心和力量,特别是上半身的力量,
This sport also effectively increased flexibility and kinesthetic awareness.
有效地增加了灵活性和动觉意识。
The plan is based on skill level, not age level.It is perfect for children and adults with different abilities.
基于技能水平,而不是年龄水平,完美的贴合各个能力不同的孩童和成人。
Coach Team & Facilities – 团队和设施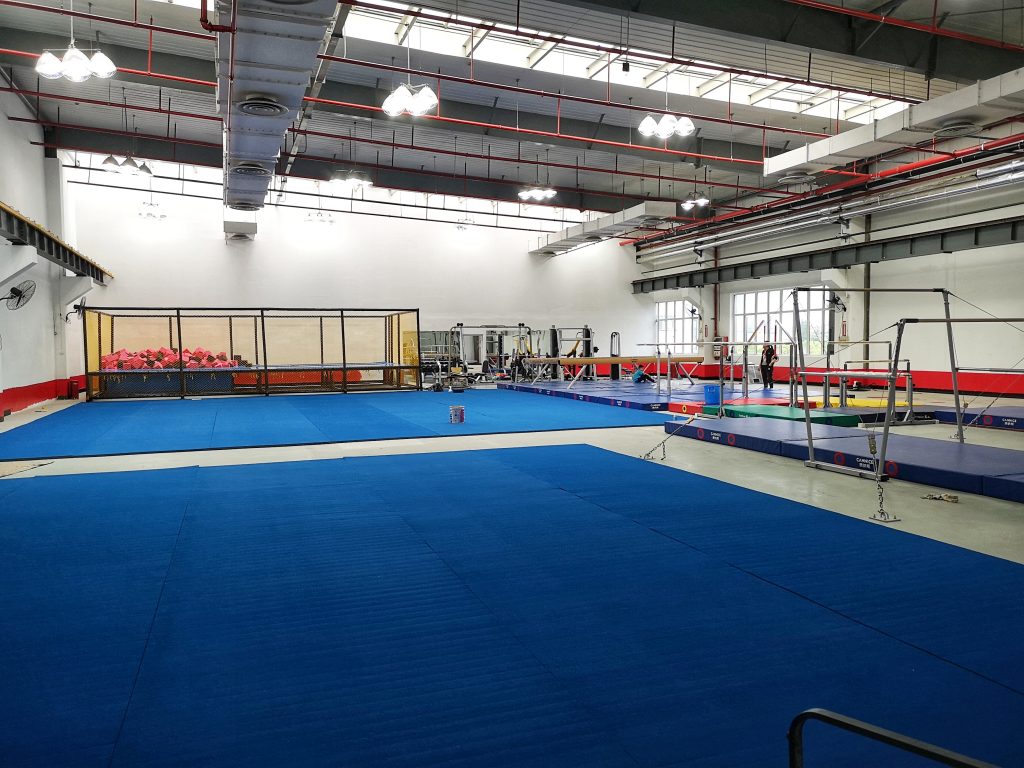 GYMFUN Gymnastics Club coaches hail from the Changzhou City Gymnastics Team and include a number of national-ranked professional fitness coaches, as well as excellent professional gymnastics teachers.
吉米乐体操俱乐部现有常州市市体操教练队伍,国家职业健身教练若干,以及一批优秀的专业体操老师。
GYMFUN's gymnastics equipment meets or exceeds the 13th National Games development standards and includes women's uneven bars, women's balance beam, men's horizontal bars, parallel bars, etc. The gym also has professional grade trampolines and auxiliary exercise equipment, as well as auxiliary pads used in training. All equipment has been carefully installed and maintained to ensure the safety of child and adult athletes-in-training.
采用第十三届全运会制定商并符合标准的体操器械,包括女子高低杠、女子平衡木、男子单杠、双杠等。同时拥有蹦床与辅助练习的器械组合,以及训练时所用的辅助垫,并确保孩子学习的安全性。
Courses – 多元化课程
Basic Gymnastics – 基础体操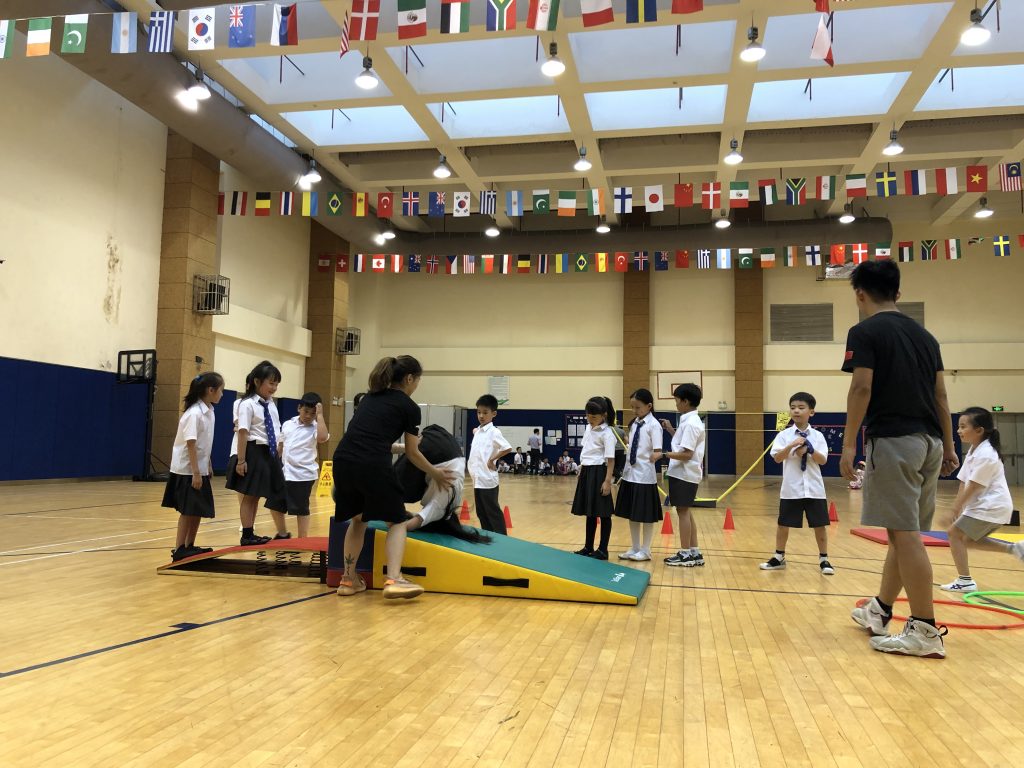 Children over 3 years old enjoy bigger challenges and more independence than our youngest gymnasts, so we make sure to foster these great traits. This class focuses more on skill development and builds on the skills they have been learning such as handstands, cartwheels, bridges and more! They develop a broader understanding of gymnastic basics, and continue to develop their coordination, agility, strength, power, balance, and self-confidence. On class lasts 60 minutes.
三周岁以上的学员比我们年轻的体操运动员享有更大的挑战和更多的独立性,所以我们一定要着重培养这些品质,注重技能的发展,并建立在他们所学到的技能上,如倒立、侧手翻、下腰等等!待他们对体操基础知识有了更广泛的了解,并继续发展他们的协调性、敏捷性、力量、平衡性和自信心。
Rhythmic Gymnastics – 艺术体操
According to the special needs of students, courses for children interested in rhythmic gymnastics are not regular courses but, if interested or related to the needs of the club, can be arranged. One class lasts 1 -1.5 hours (depending on needs and abilities).
根据学员的特殊需求,针对艺术体操有兴趣的少年儿童设立的课程,但不是常规课程,如果有兴趣或者有关这方面需求的可以联系俱乐部。上课时间为1-1.5小时。
Olympic Gymnastics – 竞技体操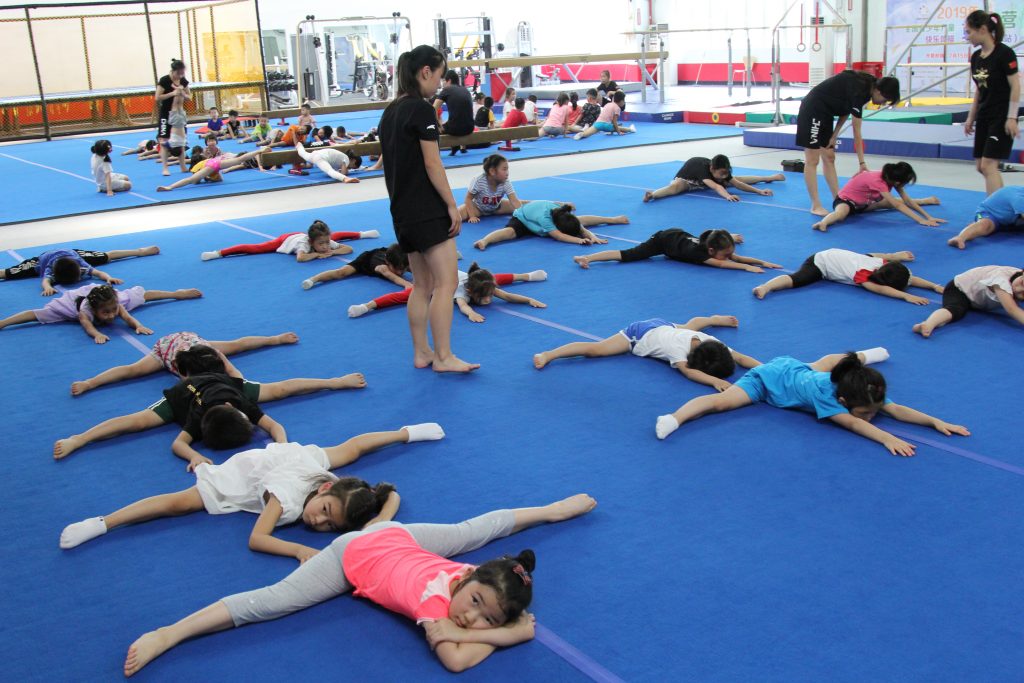 This course is provided for aspiring gymnasts, divided into reserve teams and official teams. The training time is longer, ranging from 3 to 6 hours per week. Athletes take part in several club, municipal or provincial gymnastic or happy gymnastic events every year. Therefore, this course is a course that can challenge the hearts and bodies of the students. All team members are individually evaluated by the coach and selected based on certain standards. Through more rigorous training and competition, these gymnasts are tested on the elegance and charm brought about by gymnastics. Therefore, this course has special significance.
此课程为体操预备运动员提供,分为预备队与正式队,训练时间较长,每周3-6个小时不等,运动员每年都会参加几个俱乐部之间或者市级、省级体操、快乐体操赛事,所以这个课程是一个可以挑战学员内心的课程,所有的队员都是通过教练评估和符合一定标准,通过较为严格的训练与比赛,已检验体操带来的优雅与魅力,所以此课程具有特殊的意义
Adult Gymnastics – 成人体操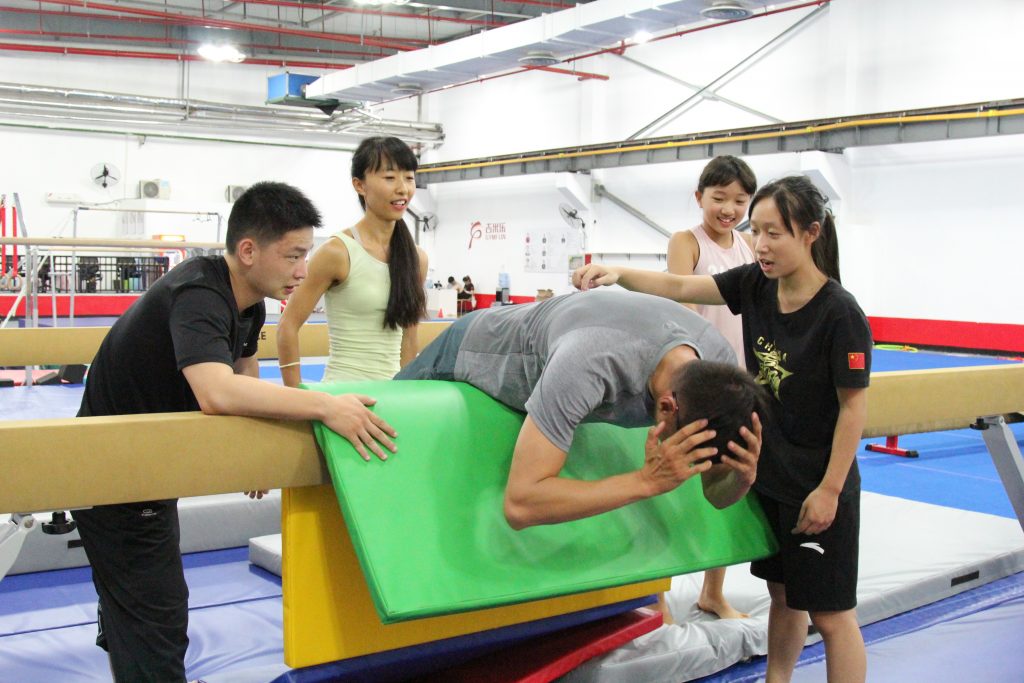 In the freest and most challenging course, young people work with coaches to complete stretching, core strength and basic gymnastics movements. They can choose any equipment to practice, but also enjoy the great charm of gymnastics. Each class lasts 1.5 hours.
年轻人最自由与最有挑战的课程,通过教练的一系列指导完成拉伸,核心力量以及基础体操动作,他们可以选择任何器械进行练习,同时也享受体操带来的巨大魅力,此课程为1.5小时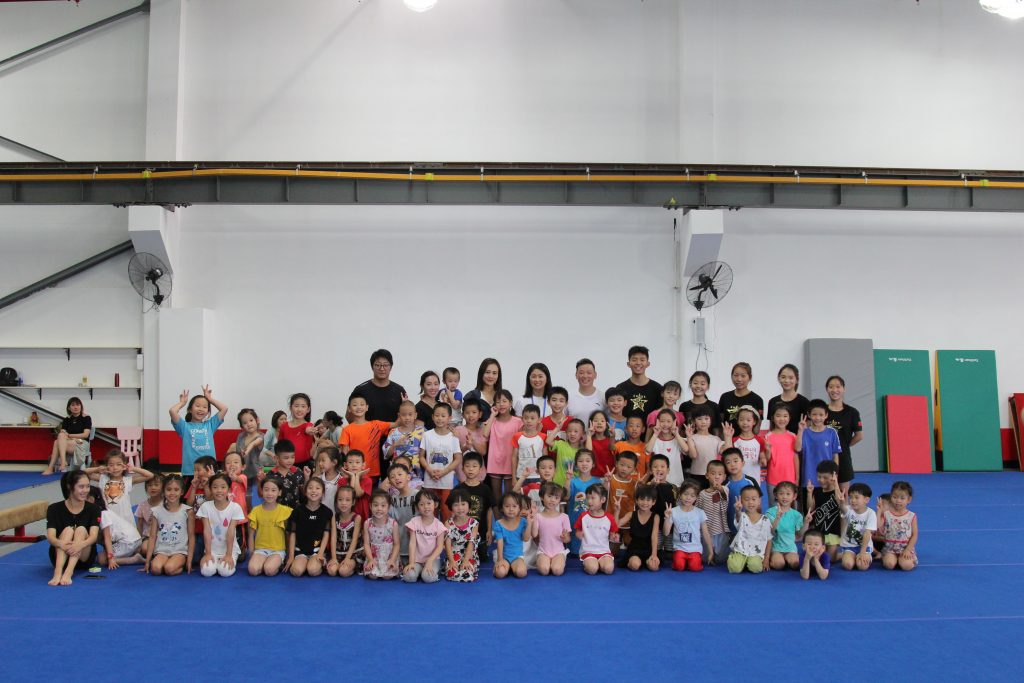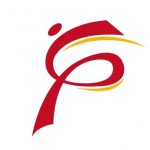 – Address –
常州新北区三井街道秦岭路2号楼3楼
3F,Bldg 2, Sanjing Street, Qinling Road,
Xinbei District, Changzhou