Innovation doesn't typically occur in beautiful places. It requires sweat and toil, and the freedom to get a little dirty on occasion. Tucked away in Changzhou's central core, Cloud Coffee's factory—the realm of Chen Liang, an innovator on the cutting edge of China's coffee scene—is no exception. A nondescript entrance under perpetual construction welcomes you to an equally nondescript factory park. There is much to suggest industry here but little more. That is until you step inside. Beyond a modest product display and tinkerer's lab, the centerpiece of the factory, a massive circular coffee bar steals the show. Behind it a huge, sunlit glass wall frames a spacious production floor teeming with roasters, toiling away on their own with minimal supervision.
我们都知道创新是一个艰辛的历程,更是需要吃苦耐劳的精神。在常州市中心附近的一隅之地,作为中国咖啡市场变革创新者之一的陈亮建立了他自己的小小王国——云咖啡工厂。从还在施工的不起眼路口走进一个普通的工业园,再往里走一些才能看见这家咖啡工厂。除了简单的产品展区和机器铸造区,其余多半空间被一个巨大的圆形咖啡吧台占据着。吧台后是一个大型玻璃框架墙围成的生产区,无人操作自动化烘焙机器正在作业。
Mr. Chen is—at least on paper—a man who roasts a lot of coffee beans. Much like his factory, Mr. Chen is quiet and unassuming on the approach. Once warmed up, however, he's ready to brighten up the conversation with a quick wit and some self-deprecating humor. That lively spark only heats up when one of his unfinished machines poses a technical problem and the tools come out. Following Mr. Chen around his factory floor is a bit like following some movie-made mad scientist around a Hollywood blockbuster. At his command are a horde of automated roasting machines, toiling away at the command of an app on his phone that controls the exact blend and temperature of the final roasting.
可想而知,烘烤各种咖啡豆是陈先生生活中不可或缺的一部分。刚开始接触陈先生你会觉得他和他的咖啡工厂一样,安静谦逊,一旦熟络起来后,你又会发现其实他是个风趣幽默的人,尤其谈及机器操作技术以及制作工具的问题,陈先生更是滔滔不绝。跟着陈先生参观他的工坊,就好像跟着一位好莱坞大片里的疯狂科学家。工厂里一大批自动化的烘培机器格外引人注意,陈先生通过操作手机上的一个APP来准确控制不同咖啡豆的烘烤时间和温度。
Think of Cloud Coffee's app as an opportunity to bring true customization to one's cup of coffee. Instead of heading to a store or your local coffee shop and selecting from amidst an array of blends. Now, with the same ease that one can call up a car on Didi or Uber, it's possible to select individual varieties of beans, control how they're mixed together, and specify how hot and how long to roast them. The final result can be shipped straight to the customer's door, just like a Tmall order. For coffee dependent businesses such as cafés and hotels, the ease of this system and the opportunity to create customized "house blends" are persuasive, but for the Chinese consumer, the system possesses the potential to redefine the nature of how coffee is consumed.
最为吸引人的是云咖啡推出的APP提供了可以真正定制一杯属于自己咖啡的机会,并且不需要像通常那样前往商店或当地的咖啡店,从一系列混合商品中选择。现在,通过手机APP顾客可以选择多种想要的咖啡豆,并自定混合方式和烘烤时间,就像可在滴滴出行或优步上打车一样轻松。顾客定制的咖啡最终会像天猫的订单一样直接派送到家中。对于像咖啡馆和酒店这样的售卖或提供咖啡的企业来说,这个APP最大的特点便是它的便利性以及能够真正自定"混合咖啡"的机会。对于中国消费者来说,该系统很有可能重新定义咖啡消费的性质。
From The Beginning…
Mr. Chen became increasingly fascinated with roasting coffee beans, shortly after opening his first coffee shop 6 years ago, to the point that his café was described as a "coffee roasting studio". For Mr. Chen, coffee beans had the advantage over customers that they were easier to deal with…to an extent.
六年前陈先生开了第一家咖啡店后不久便开始自己烘焙咖啡豆,他称他得咖啡馆是"咖啡烘焙工作室"。对于陈先生来说,烘焙咖啡豆比招待顾客轻松得多。
The thing about coffee beans is that if you want to roast large quantities of them, you need some pretty special equipment. When Mr. Chen was looking to upgrade his first roasting machine, the machines with the best reputations—all imported—happened to start at 600,000RMB and go up from there. This proved a sizable hurdle for the young café owner. Still, the promise of roasting coffee beans, so he did what people who lack the resources to buy something have done for thousands of years.
如果你想烘焙大量的咖啡豆,就需要特殊定制的烘焙设备。当初陈先生想要改良他的第一台烘烤机时,较好的进口设备最少要60万,这对一名年轻的咖啡店业主来说是相当多的一笔钱,但由于对烘焙咖啡豆的厚爱以及资金的缺乏使得他只能花大量的时间自行研究制造烘焙设备。
Mr. Chen doesn't have a technical background. The coffee shop was his first major endeavor after five years of studying in Germany where he graduated with a business degree. He'd developed an interest in the bitter drink itself while studying abroad in Germany where coffee is consumed with a devotion to rival tea consumption in China. And while Mr. Chen had learned a great deal about the technicalities and complications involved in roasting beans, since opening his shop, when it came to building machines that could accomplish the task with regularity, he was starting from scratch.
So Mr. Chen took his inquiries to the internet. With the aid of online videos, he taught himself everything necessary—from circuitry to welding—to build his first roasting machine.
When asked how difficult this was, Mr. Chen gives a sheepish grin, "I electrocuted myself… a lot."
在德国学习五年并获得商业学位后,陈先生自主创业,开了一家咖啡馆。在国外,咖啡文化就像中国的茶文化一样,是生活中不可或缺的一部分,尽管没有专门学习过烘焙咖啡豆,但是受国外咖啡文化的熏陶,陈先生在德国留学期间就对咖啡文化十分感兴趣,并且学到了很多烘焙咖啡豆等相关技术。
从开店到自行制造烘焙设备,陈先生踏踏实实从头做起,借助互联网,通过在线视频,从电路焊接开始一步步学起,不断改良完善烘焙设备,终于制造完成了自己的第一台理想烘焙设备。
艰难的创业历程陈先生只是付诸一笑,"我经常在操作中电到自己。
China Meets Coffee | 中国遇见咖啡
What kind of insanity would lead a bright, quiet young man to literally risk life and limb in the pursuit of cooking the beans of an exotic plant from Africa? Better known for its tea culture than its coffee culture, China does not seem an intuitive starting point for someone intent on revolutionizing how we buy our coffee.
在茶文化深厚的中国,一个人很难直观彻底得让咖啡文化像茶文化那样深入人们生活。但是是什么样的意念让一个安静的年轻人为了烘焙一种引于非洲的咖啡豆不惜一切?
On paper, the numbers suggest China's barely dipped its toes into the world of coffee. The International Coffee Organization reports the average Chinese person consumes approximately 6 cups of coffee per year. Historically, 98% percent of that consumption has been via instant 3-in-1 (coffee+sugar+creamer) coffee powder; the kind served up at hostels and dug out of the back of factory cupboards when a foreign consultant comes to visit.
调查数据表明咖啡文化并没有真正融入到中国文化中。国际咖啡组织报告显示,中国每人每年平均大概消费6杯咖啡,其中98%的消费者购买的是速溶3合1咖啡;并且中国多数的酒店和公司待客厅一般提供的都是速溶咖啡。
Despite this, China is already one of the top producers and consumers of coffee in the world. Yunnan province has been growing coffee since the crop was introduced in 1892 by a French missionary, although production didn't scale up dramatically until around 2008. Now, China is one of the world's top exporters of Arabica beans, shipping out more each year than Kenya and Tanzania combined. On the consumption end, the Chinese coffee market is already bigger than Australia, and boasts a 16% year-on-year growth even in the face of a slowing economy that has been putting the brakes on other domestic industries. For a story last year for the BBC, Shaun Rein at China Market Research Group in Shanghai said, "China's thirst for coffee will totally change supply chains globally." It is this change that Mr. Chen seems poised to head up.
尽管如此,中国依然是世界上最大的咖啡生产商和消费市场之一。自从1892年法国传教士引进咖啡豆以来,云南省一直在种植咖啡豆,但是直到2008年左右,咖啡豆的生产才开始大幅增长。现在,中国是世界上主要的阿拉伯咖啡豆出口国之一,出口量超过肯尼亚和坦桑尼亚的总和。中国的咖啡市场也已经超过澳大利亚,即便经济发展相对缓慢的局面对很多其它制造业造成了消极的影响,咖啡市场的年增长率仍达到了16%。去年英国广播公司报道,中国上海市场研究集团的Shaun Rein曾表示:"中国消费者对咖啡的渴望将彻底改变全球的咖啡的供应链。"显然陈先生的咖啡工厂正在推动着中国咖啡市场的变革。尽管如此,中国依然是世界上最大的咖啡生产商和消费市场之一。自从1892年法国传教士引进咖啡豆以来,云南省一直在种植咖啡豆,但是直到2008年左右,咖啡豆的生产才开始大幅增长。现在,中国是世界上主要的阿拉伯咖啡豆出口国之一,出口量超过肯尼亚和坦桑尼亚的总和。中国的咖啡市场也已经超过澳大利亚,即便经济发展相对缓慢的局面对很多其它制造业造成了消极的影响,咖啡市场的年增长率仍达到了16%。去年英国广播公司报道,中国上海市场研究集团的Shaun Rein曾表示:"中国消费者对咖啡的渴望将彻底改变全球的咖啡的供应链。"显然陈先生的咖啡工厂正在推动着中国咖啡市场的变革。
The Genius in the Madness | 疯狂的天才
Mr. Chen's first coffee roaster opened up a world of possibilities. It wasn't long before he was taking orders for roasting machines in addition to selling his beans. Business grew and evolved, and soon he'd divested himself of the café completely and moved into a full-fledged factory. He became increasingly interested in improving the roasting process through automation, which in turn led him to take a hard look at another backbone of the coffee preparation process, the coffee machine.
陈亮的第一台咖啡烘焙机开启了一个无限可能的世界,没过多久,在卖咖啡豆的同时他还出售咖啡烘焙机,业务发展渐渐壮大后,他就把咖啡馆关掉,开办了一家工厂。陈亮越来越专注于通过自动化改善烘焙工艺,这使得他又开始研究咖啡制备工艺的另一个方向——咖啡烘焙设备。
A trendy subset of the coffee machine, the coffee capsule machine, had recently hit the Chinese market with a consumer-friendly simplicity that intrigued Mr. Chen. Capsule machines take small single-serving containers of coffee as their input to produce cups of coffee individually. The process tends to be considerably faster than batch brewing, and the coffee in the capsules stays fresher longer because it is only exposed to air the first time it is used. When Mr. Chen began eyeing coffee capsule machines as a viable branch for his coffee company, the machines and capsule brands available in China all tended to originate in Europe.
胶囊咖啡机是咖啡机中最新流行的一款,胶囊咖啡机制作咖啡的操作流程相对于其它咖啡机更简单、方便,因而备受中国消费者的青睐,于是这引起了陈亮的兴趣。只要将咖啡胶囊装入胶囊咖啡机里,人们就能很快的喝到一杯香浓的咖啡。用胶囊咖啡机往往比用其它咖啡机要快得多,咖啡胶囊中充有无毒的惰性气体来起到延长保质期及灭菌的作用,可以更好的保证咖啡的香醇。目前中国的胶囊咖啡机和咖啡胶囊品牌多引进于欧洲,于是陈l亮开始把胶囊咖啡机作为他的咖啡公司的另一个发展研制项目。
The modern world may move at digital speeds, but freighters still take weeks and even months to carry cargo between continents. While this isn't the end of the world when the cargo is steel and plastic, it's not an ideal situation for perishables, such as coffee. A coffee capsule from Europe might be 6 months old by the time it hits supermarket shelves. Mr. Chen had every reason to believe a home-brewed coffee capsule machine—along with the accompanying capsules—could produce better results in terms of fresher coffee, so he rolled up his sleeves again and went back into the workshop to reengineer a coffee capsule machine from scratch.[/cs_text]
现代世界可能会向数字化迅速发展,但进口货物运输仍然需要数周甚至数月的时间。虽然对于钢铁和塑料等货物来说没有什么影响,但对于咖啡等易过期食品来说是很大的问题,咖啡胶囊从欧洲生产然后运送至我国再到超市上架可能需要半年时间。于是陈先生坚信自主研发胶囊咖啡机以及随附的咖啡胶囊可以提供更新鲜的咖啡,所以他再次卷起袖子回到车间开始研发胶囊咖啡机。
Mr. Chen's coffee capsule machines are now available in his TMall store alongside his company's various coffee offerings. The wily inventor has an aversion to big box stores and supermarkets, preferring to control as much of the marketing and distribution chain himself as possible. It's a similar tactic to those adopted by many larger, well-known corporations across varying industries and has become more common since the beginning of the internet era with information-powered consumers and one-click ordering wreaking havoc on the traditional benefit of location offered by "brick and mortar" stores.
陈亮的胶囊咖啡机以及他工厂烘焙的咖啡豆已经在他的天猫旗舰店上架。如今很多品牌宁愿尽可能多地自行控制营销和分销链,也不愿在大型百货商店和超市销售。自互联网时代以来,许多其它行业的知名大型企业也开始纷纷转战互联网市场,网络消费越来越普遍,一键下单的消费模式对实体店消费造成了不小的影响。
Educating The Masses | 相关知识普及
Waving a hand at the gargantuan multi-ton roasting machines lining his shop floor, Mr. Chen sighs, "I want all this to be completely automated." As if on queue, the room echoes with the sound of beans rumbling down a pipe from an attic storage compartment, where they're routed into the holding cell of a waiting roaster. When finished, another tube will guide the roasted beans to the next stage in their preparation cycle.
陈亮看着排列在地上的大型烘焙机,叹了口气说:"我希望我的工厂能实现完全自动化",这时,从阁楼储藏间的一个管道里响起了一声嗡嗡嗡的声音,这仿佛是要印证他所说的话。管道被接到等待烘焙设备的容器内,完成后,另一个管将在准备周期将咖啡豆引到下一个阶段。
One curious thing about Mr. Chen becomes apparent after talking to him for a while. He is not wild about dealing with people. While one theme of his business adventures revolves around solving a problem that needs a solution (usually with grease and circuitry), the second major theme is the burning desire to minimize his interactions with other humans. It's this desire that led him away from the café business and into roasting, and it's also this that inspires his increasingly complicated explorations into automation in the name of simplifying crafted coffee.
和陈亮交谈了一段时间后,你会发现他与人交流是比较内敛的。他也开玩笑到,之所以研发自动化和做客户终端就是因为自己以前不是很热衷社交。正是这种愿望使他舍弃咖啡馆转而开始研究烘焙工艺,为了简化咖啡制造工艺流程,使得他对自动化进行更深入探索。
Mr. Chen holds eight patents for his inventions. One of his more recent ones is his coffee app which has the potential to open up the wide world of coffee flavors to any internet-savvy customer with a smartphone. The challenge, however, is those very same customers. How do you turn instant coffee drinkers into customized coffee connoisseurs? Ironically, automation-loving Mr. Chen is banking on the power of people to do just that with a planned Shanghai-based coffee showroom.
陈亮拥有8项发明专利。最近的一个发明专利就是他的咖啡应用APP,互联网消费者通过智能手机安装该APP购买便可以享受定制咖啡,这为定制咖啡打开了宽阔的市场。然而,最大的挑战还是如何能让速溶咖啡消费者真正接受定制咖啡?尽管这个挑战很艰难,但是身为一名自动化爱好者的陈先生还是希望他在上海的咖啡规划展厅能吸引消费者的目光。
Cloud Coffee's Shanghai showroom will emphasize workshops and coffee tastings. The goal is to introduce people to excellent cups of coffee and the skills necessary to produce them.
云咖啡工厂的上海展厅以咖啡工厂和咖啡品尝为主题 – 目的是引导人们学会品鉴出色的咖啡并了解其制作过程。
TMALL ONLINE SHOP | 悠睿咖啡天猫旗舰店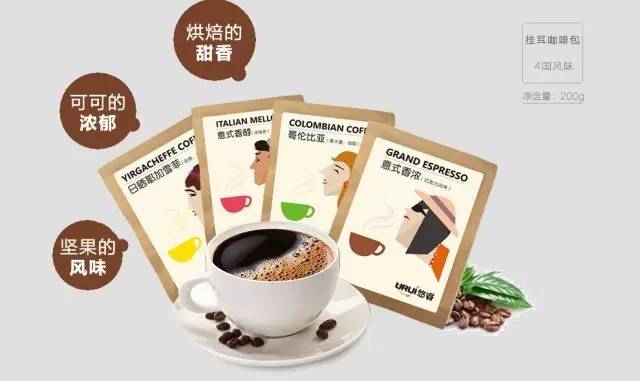 ---
Article by Theresa Boersma
Translation by Zinia 仲轩
March 30, 2017