In almost three weeks, Jiangsu province has not reported a single new coronavirus case, and the last coronavirus patient was discharged from Changzhou No. 3 hospital over the weekend. Malls, parks, and bookstores have reopened, and the first restaurants have begun to accept sit down diners. Despite these positive developments, the fight is not over, which is why Changzhou has rolled out a new health code. And if you want to be able to participate in many of the newly reopened public spaces, you're going to need to figure out how to set it up.
What You Need to Know About Health Codes in Changzhou
In an announcement published to official accounts and local media on February 26th, the Changzhou Covid-19 Emergency Epidemic Task Force announced guidelines for using the health code. You can access the full Chinese text of the announcement in the official Changzhou government public WeChat account here.
Many cities throughout China have been unveiling similar health codes over the past several weeks with varying levels of implementation. The codes are color-coded QR codes that are supposed to assist with epidemic control by tracking users to assess their risk level of carrying the virus and presenting this information in the form of an easy-to-read colored label. Green means you are low-risk and are free to move about the city. Yellow means you have close contact with someone that has reported symptoms, and you are not allowed in crowded public places or on public transportation. Red means you are considered high risk and should be at-home completing a 14-day quarantine.
Late last week, a number of places around Changzhou began requiring green health codes in order to enter, including subways, parks, and some housing compounds. As of Saturday, it was reported that several supermarkets (mostly in Xinbei and downtown so far) had also begun requiring to see the health code.
So How Do You Sign Up for the Changzhou Health Code?
For Chinese citizens, signing up is fairly easy. You download the My Changzhou app (我的常州APP), register with your Chinese ID and fill out a brief health screening form. Assuming you have no recently arrived from a key epidemic area (Currently, these are: Hubei, South Korea, Japan, Italy, and Iran) nor have recently suffered from coronavirus symptoms like fever or cough, a green QR code will be issued to you, and you will be free to move about the city.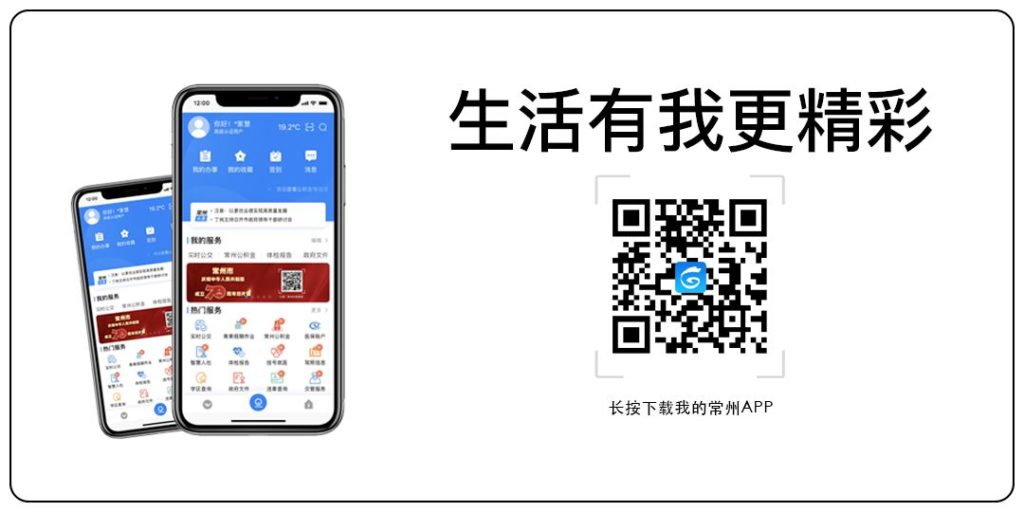 The complication arises if you do not have a smartphone capable of downloading the My Changzhou app or if you are a foreigner (and thus do not possess a Chinese ID). For these groups, the city has devised a way for a registered Chinese person to apply for a health code for you under their account.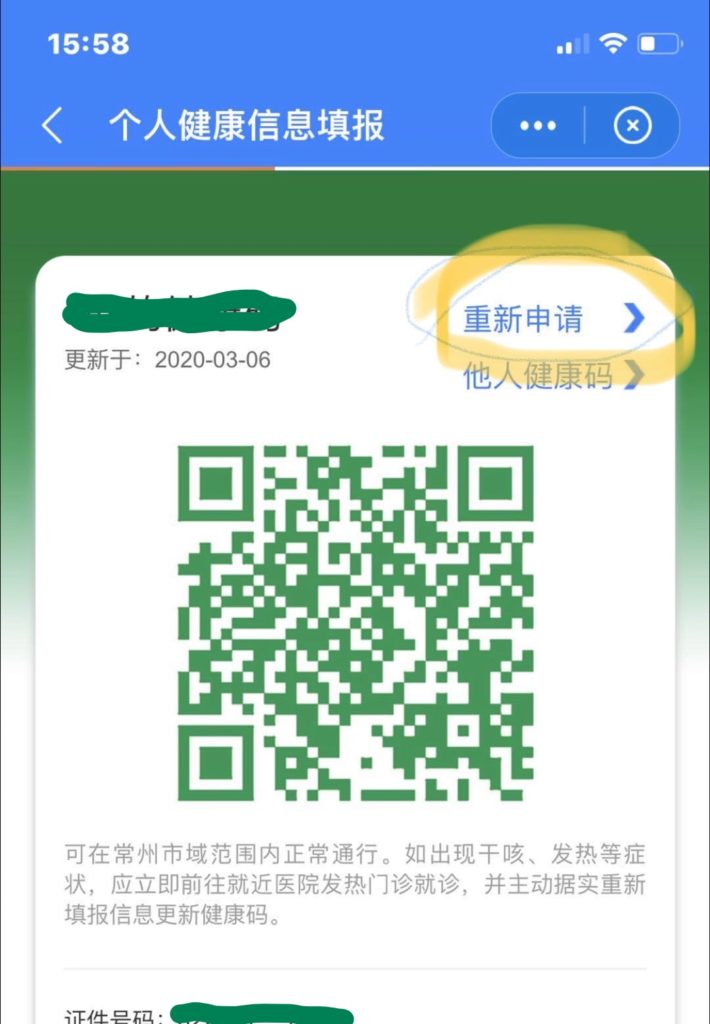 This process needs to be completed at least a day before you want to be able to use the health code, and a registered user can only apply for up to 4 other people this way. After the application is approved, the registered Chinese person can then log into their app to retrieve your code and send it to you as a screenshot. Codes are only valid the day they are retrieved. If you rely on public transportation for your daily commute to work, you will need to receive the code every morning before you head to the company.
Some people have concocted a hack for this inconvenience by downloading the My Changzhou app to their own phones and then asking their registered Chinese friend to give them their login information. This allows for ready access to a fresh QR code every day, but may not be doable if your Chinese friend does not trust you with their login information (the My Changzhou App gives Chinese citizens access to city services beyond just the health code).
The Shanghai Health Code
In the event that you cannot sign up for a Changzhou health code, the city has advised those manning the checkpoints at entrances to public places to allow entrance to those with green health codes from other cities in the Yangtze River Delta.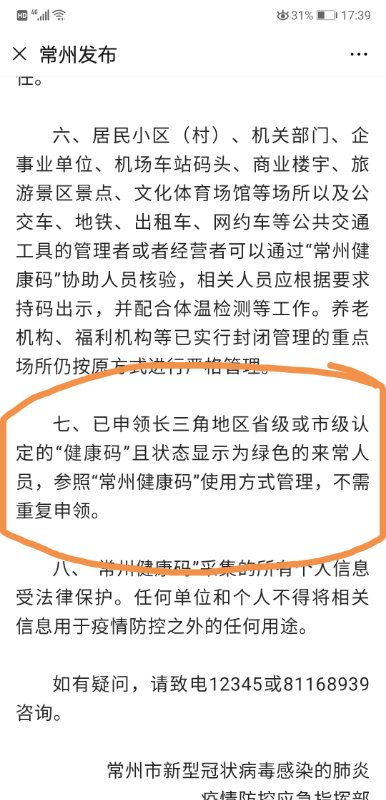 This is good news for those commuting in from other cities, and for foreigners who may have difficulty signing up with the My Changzhou App or who find asking their friends or colleagues for a pass any day they want to leave their compound inconvenient.
If you have a verified Alipay account, signing up for the Shanghai health code is a smooth process. You can access it either by scanning a QR code or by tapping the "HealthCode" icon from within Alipay and then switching your location to Shanghai (上海). There are a few buttons to tap, but no forms to fill out and the code is issued immediately.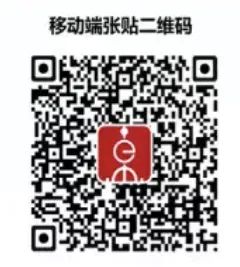 The downside to using the Shanghai code in Changzhou is some locations have occasionally refused entrance to those bearing the Shanghai code, despite the city mandating that this is an acceptable way to fulfill the green code requirement. If you find yourself in this situation, your options are to show the person at the checkpoint the official city announcement, particularly item 7, which talks about accepting codes from other cities in the Yangtze River Delta or you can call the Foreign Affairs hotline for help: 189 1506 5022 or 137 7522 3311. Those who belong to the English-speaking Changzhou WeChat groups manned by SupCZ can also report the problem there and we will get city officials involved to find a solution.
But What If I Don't have a Verified Alipay Account?
The trouble with the Shanghai code is that foreigners need a verified Alipay account, and the common wisdom is that to verify an Alipay account, you need a Chinese bank account. In recent years, it's been exceedingly difficult for many groups of foreigners to sign up for Chinese bank accounts. Spouses and students, for example, have reported a great deal of trouble, so what can they do?
Instructions have been circulating on Facebook recently for how to verify an account on Alipay without a Chinese bank account. We've tested these instructions out on one guinea pig and can verify that they do indeed work and that accounts verified this way can use the Shanghai Health Code:
"There is a way to verify Alipay WITHOUT providing a chinese bank number. However, it might take 24 hours (for me it took 3 hours) to get verified. Its a bit tricky tho.

Open your Alipay -> Press on "Me" -> Press "Balance" -> Under your Balance there is a pop up telling you to verify or provide real ID. Press it.

Now you have the choice between verifying your account with your bank account number OR by Face Scan (they even write recommend).

Choose the Face Scan, enter your real name, information of your passport and upload a picture of your passport. Make sure its exactly like they show in the example. Also make sure no part is blurred (it might get you verification refused) and last but not least scan your face. Now you should see a screen "verification in progress".

After a few hours check again or open the health app within Alipay directly and try to get the QR code. You should get it without being ask for a bank account number or verification.

I hope this helps."

A kind samaritan created these instructions that have been circulating on Facebook
What About the Jiangsu Code?
In theory, the Jiangsu Code would also fulfill Changzhou's Health Code requirements, and the province went to the trouble of releasing information about this code in multiple languages, inspiring hope that it would support registration with foreign passports. However, as of March 9th, despite many different attempts no foreigner in Changzhou has reported success in signing up for this code.
But No One Has Asked Me for Any Kind of Code…
Lucky you. Some districts in Changzhou have been faster to implement the code than others, but as the guidelines were announced at the city level, we have reason to believe it will be rolled out across the city. The guidelines do mention that people who absolutely cannot access a code should still be allowed access to public places through the "previous methods" (original Chinese text of the guideline below):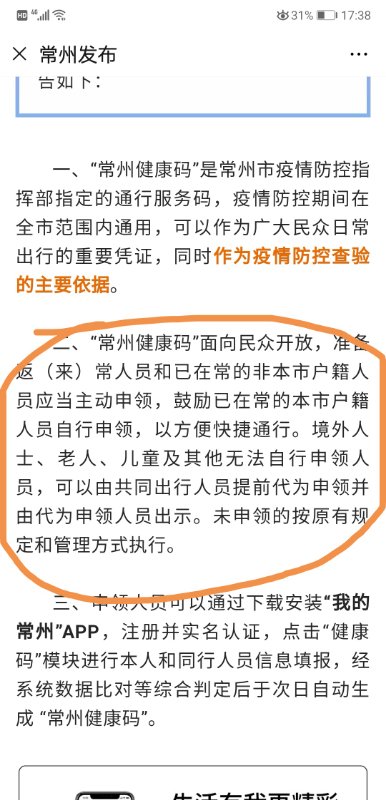 The health code, though, when implemented according to city guidelines is a very fast, efficient, and (once it's working) convenient way of screening for who is unlikely to pose a danger in crowded, enclosed spaces during the epidemic control period. We recommend trying to get access to at least one of these codes to minimize the drama in your life when you want to enter a supermarket, go to a restaurant, take the metro, or visit a friend.